Visiting the unique open-air German market in Carmel, Indiana called Christkindlmarkt is a unique and family-friendly experience. At Christkindlmarkt, you can shop, eat, ice skate, and learn about another culture! If you're thinking about checking out this German-inspired outdoor market this year, let me fill you in on the details. 
The Location
Carmel, Indiana is located directly north of Indianapolis. Their Christkindlmarkt is in the City Center area. The address is 10 Center Green, which is between The Palladium and The Tarkington Theater. 
The Dates and Times
The market usually opens in mid-November and through December. It is open varying hours during the afternoon and evening. All dates and times are listed on their FAQ page. 
Parking
There is plenty of convenient and free parking on the street surrounding the market and in a couple of garages close to the market. Veterans Way Garage at 126th Street and Range Line Road is available for everyone. There is also handicapped parking available at the Tarkington Garage on 3rd Avenue SW. 
The Experience
To be honest, I was not at all excited about going to Christkindlmarkt during our last visit. It was a cold, rainy day in central Indiana. I was feeling like staying home would be a better idea, but Adventure Dad talked me into going. We bundled the kids up similar to Randy in A Christmas Story and decided to make the most of whatever the market had to offer. Boy were we surprised!
The Glühwein Pyramid
At the center of Carmel's Christkindlmarkt is the enormous "Christmas Pyramid." Theirs is based off of the ones traditionally found in German markets. It is absolutely gorgeous!
The lights on the pyramid as well as the lights throughout the market and on the tree are the reason why this place made it to our list of the 21 best Christmas light displays for Central Indiana families. 
The Carmel Pyramid is my favorite feature at the Christkindlmarkt. Originally, in Germany, pyramids were small Christmas decorations that were powered by the heat from candles.
To me, the installation actually looks like a windmill on its side. Under the windmill, there are religious figures moving around the inside of the installation like a carousel.
The Carmel Pyramid is 33 feet tall, contains over 3,000 lights, and weighs about 10 tons! Underneath the pyramid is where you'll find the beer and mulled wine, so if you're looking for that, just head to the pyramid.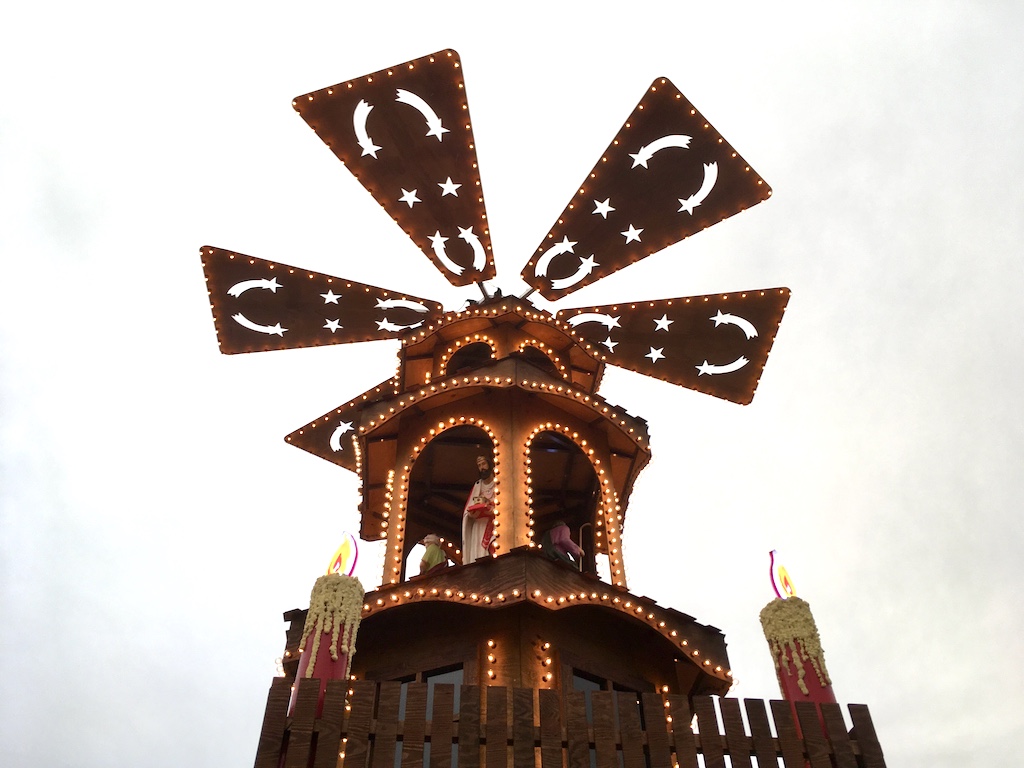 Passport
When you arrive at the market, first go to one of the guest services booths to pick up a map for you and a passport for each of the children in your group. These are free.
The kids can collect stamps in their passport books by simply asking at any of the booths that have a red sign on the front of them. Once they've collected 5 stamps, they can return to a guest services booth to win a yummy prize.
The Adventure Kids thought this "treasure hunt" was a fantastic idea! They were both very proud of themselves for "winning a prize."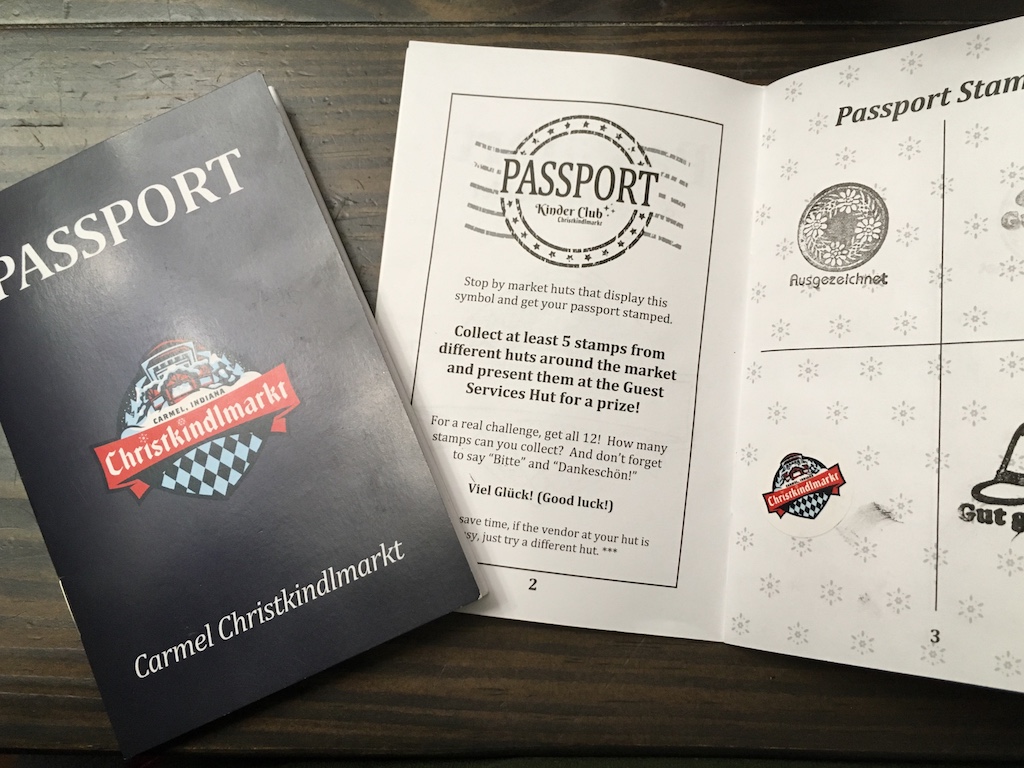 Family Fun
There is a wide array of events and entertainment at the Christkindlmarkt. Throughout the season, the "characters" and fun for the kids will change. You can expect singing, dancing, drinking, and visits with  Christkind and other local celebrities and groups. You can also visit Santa in his own Santa house on Santa Saturdays.
Kinderecke
The Kinderecke building at the market is the Children's Corner. Inside, you'll find various demonstrations, a craft/coloring table, and a sensory table filled with items such as pinecones and wood.
Here's what we loved most: German craftsman Ringo Mueller performs wood carving demonstrations. When we visited, he was carving small toys out of wooden circles. It was amazing! He even let the Adventure Kids use a hammer and a chisel to hack off their own dog figurines to take home. They loved this!
If you visit the market, make sure you take the time to check out the demonstrations and crafts in the Kinderecke.
Ice Skating
A big draw for families is the outdoor ice skating in the center of the market. We had fun just watching everyone else skate around. If you feel like putting on some skates, their rates and details can be found online. You can also purchase and schedule your session ahead of time.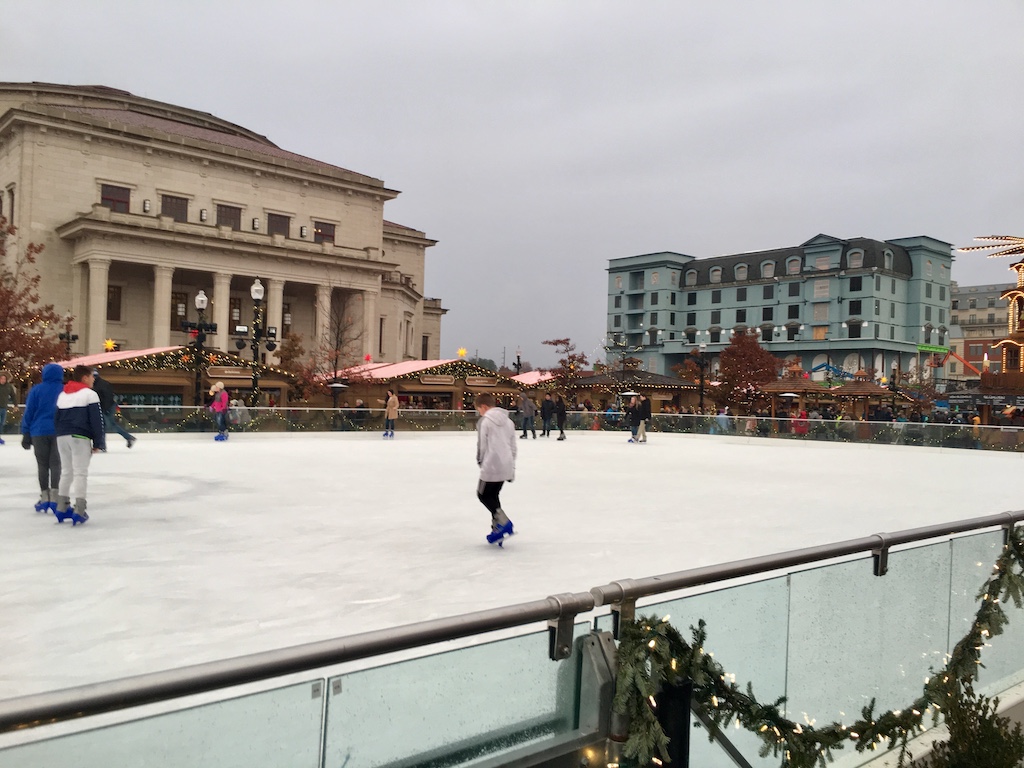 Model Train
If you have little ones who love trains (like we do), then don't miss stopping at the Christkindlmarkt Express booth. Here, you can watch model trains chugging around a European village.
The display is provided by Mr. Muffins Trains, and the Adventure Kids thought it was very impressive!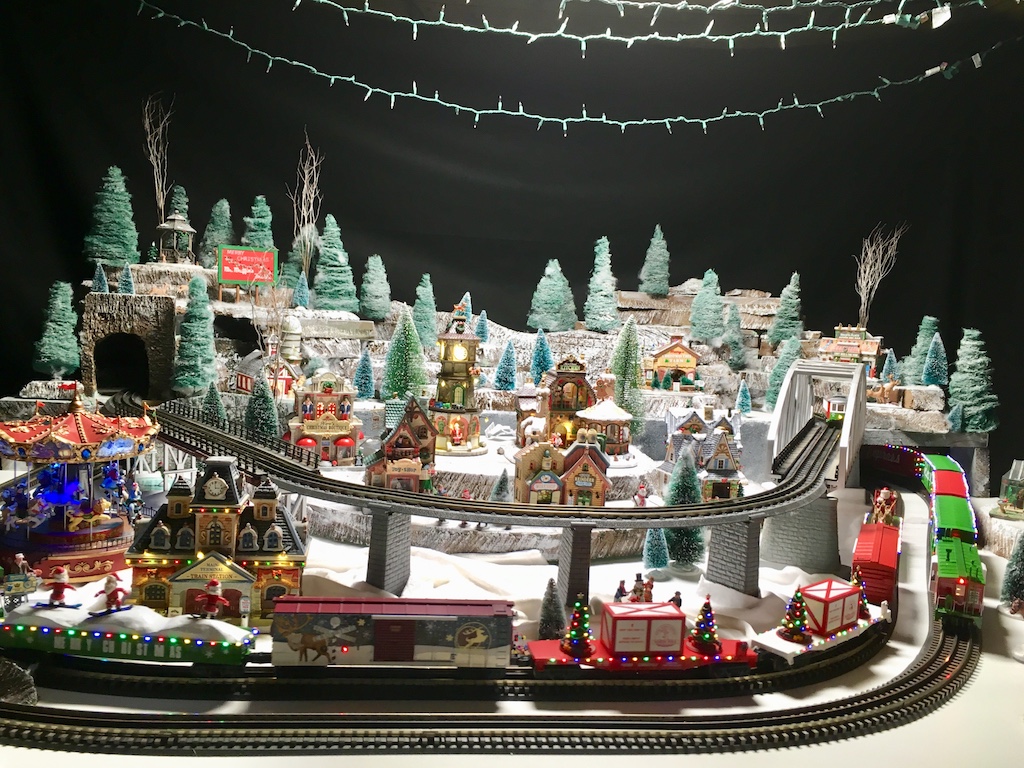 Shopping
I was pleasantly surprised by the variety and uniqueness of the vendors at Christkindlmarkt. I was also struck by the laidback nature of all of the shoppers and vendors. This may change closer to Christmas, but at least during our visit, I felt like everyone was relaxed and just there to enjoy the experience.
At the market, you'll find around 25 different vendors selling unique gifts and collectibles such as:
Toys

Wood art

Polish pottery

Handmade German glass ornaments

Steins

Scarves and hats

Loose leaf teas

German-made jewelry

German folk art

Hanukkah gifts

Pop-up cards

Advent calendars

German lace and fabrics

German pyramids and candles

Nutcrackers

Cuckoo clocks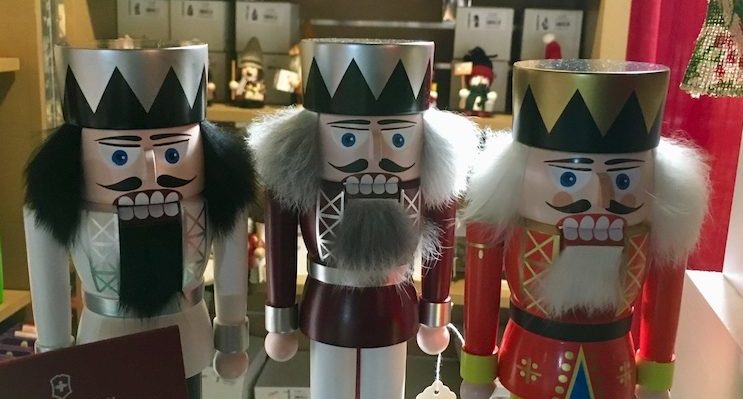 Food
There is a delicious and unique selection of food and drinks here as well. We were most impressed by the delicious pretzels (of course!), the raclette (warm cheese melted and scraped over bread, sausages, and the like), and the Belgium waffles.
In addition to those treats, you can also find:
Gourmet coffee

Donuts, apple strudel, and brownies

Belgian hot chocolate

Sausages

Crepes

German and local beer

German cookies, candies, and other holiday treats

Schnitzel and sauerkraut

Spatzle (egg-based noodles with cheese and roasted onions)
Glühwein Mug
When I was little, my brother had a glass boot-shaped mug that he drank out of all of the time. No one seems to remember why or where that boot came from, but it is just one of those funny things from our childhood that I remember very clearly.
So when I saw that the Christkindlmarkt has boot-shaped mugs, I had to get one for each of the Adventure Kids. At $5 each, I actually thought that was a pretty good deal!
These mugs are apparently called glühwein (mulled wine) mugs, but they are perfect for hot chocolate. It seems the tradition of the boot mug in our family will continue. Ha!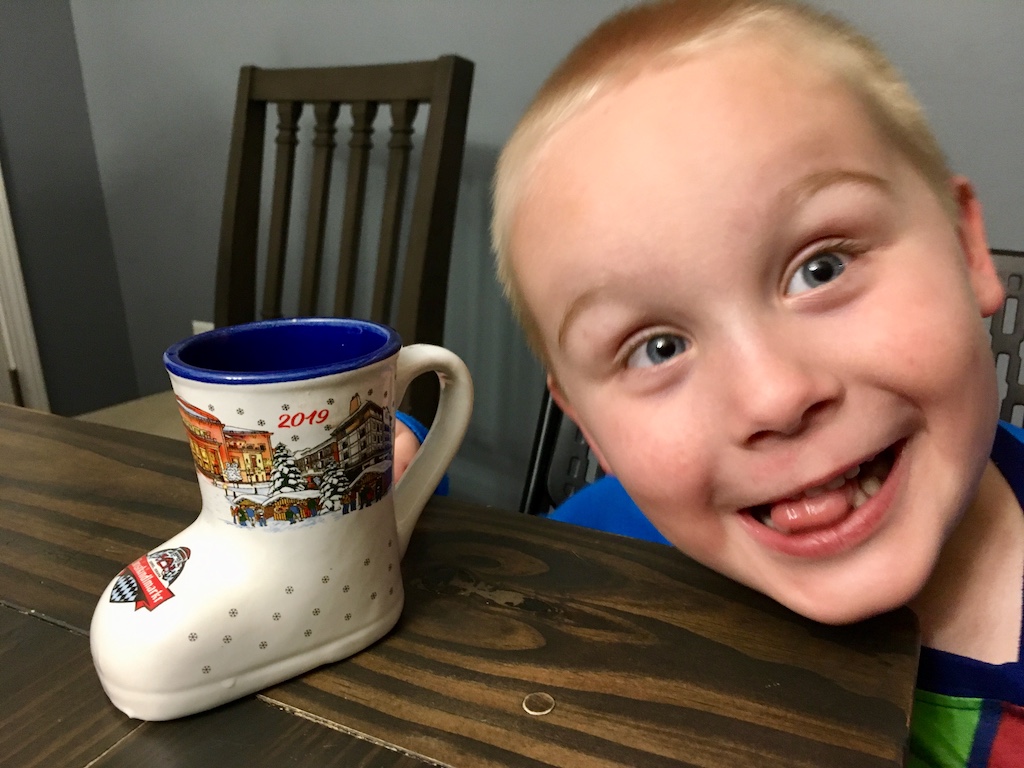 Free Holiday Trolley
You must ride the free Carmel Holiday Trolley that runs on Fridays and Saturdays. It's so fun! Even if you don't get off anywhere, still go for a spin!
The trolley stops, which are red and white tents, can be found in the Arts & Design District, Carmel City Center, Midtown, Indiana Design Center, and Carter Green (Christkindlmarkt). You can hop on and hop off as many times as you'd like. It's a great way to get some holiday shopping done and see the beautiful decorations around Carmel.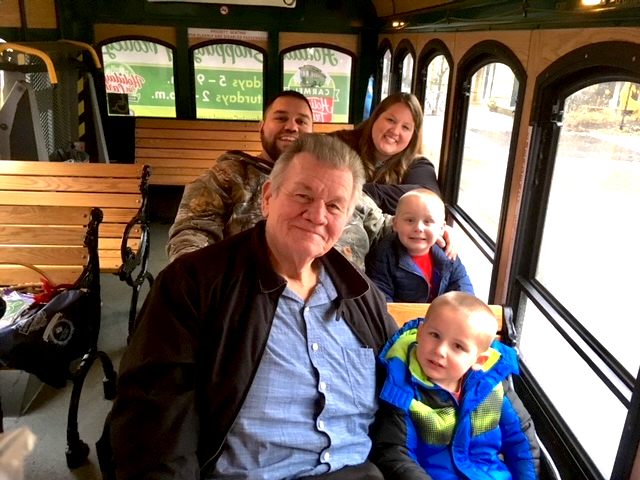 Performances
On the main stage last night, we saw singers, ballerinas, and holiday dancers. The Adventure Kids thought the ballerinas were especially beautiful! Having local performers take the stage all evening really drove home the idea of community at the market. It was lovely. Just check their calendar if you'd like to see who will be taking the stage when you attend. 
We absolutely loved our experience at the Christkindlmarkt. We hope you give it a try this holiday season! Like us, we think you'll be pleasantly surprised by the variety of activities, food, and gifts the market has to offer.