Newfields Winterlights is all about strolling around outdoors looking at beautiful and unique holiday light installations. If 1.5 million Christmas lights, hot chocolate, and s'mores sound like fun to you, then Newfields in Indianapolis is the place to be. Read on for all of the details.
Hours
Newfields' Winterlights is open from November 22, 2021 through January 2, 2022 from 5:00-9:00pm. 
Location and Parking
Newfields (formerly called Indianapolis Museum of Art) is at the corner of Michigan Road and 38th Street at 4000 Michigan Road. Parking is free, and you can enter the parking lot from Michigan Road or 38th Street, and the attendants will direct you to the best spot.
There is also an underground parking garage that is typically used for handicapped parking during events.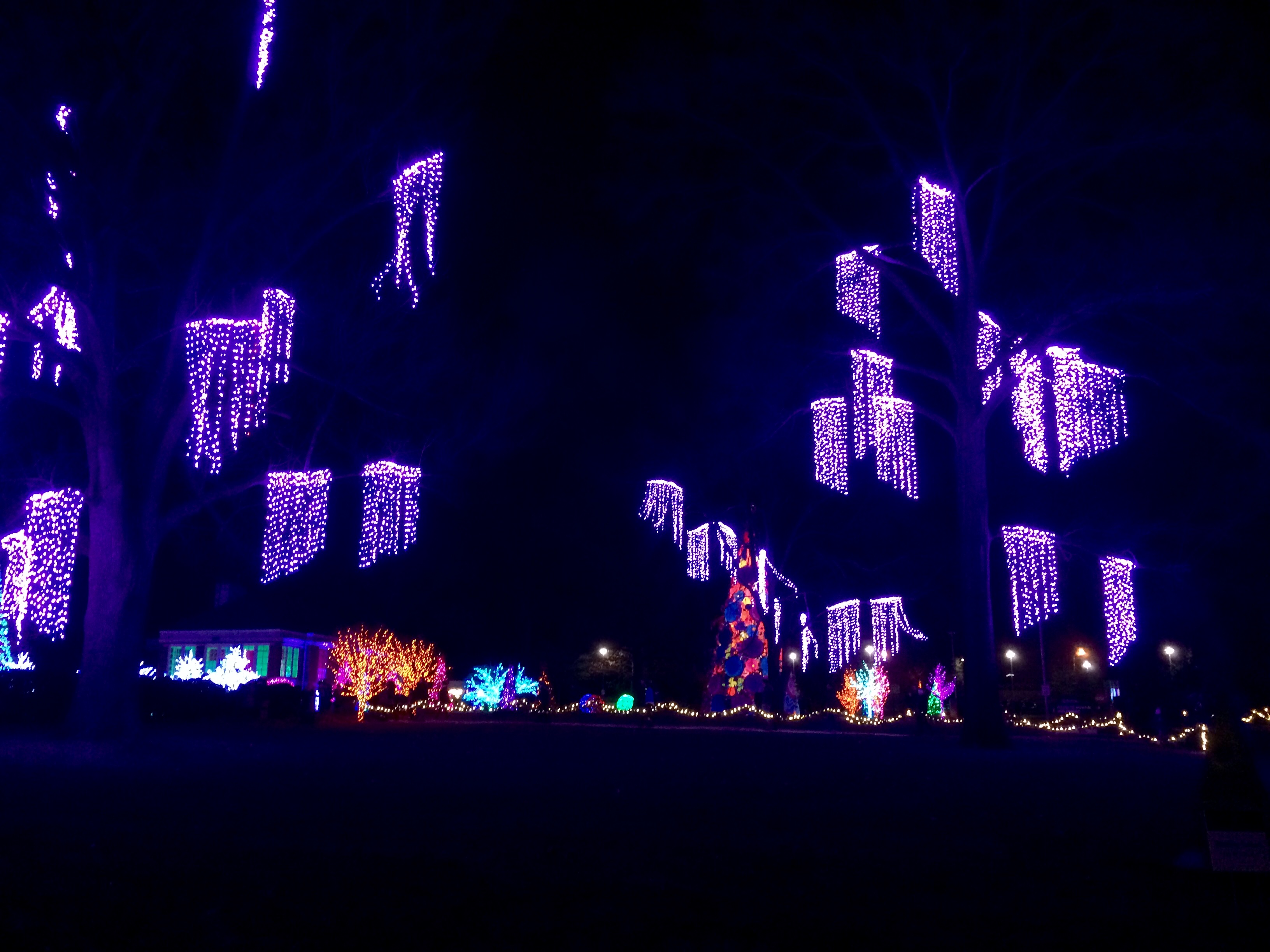 Pricing
You'll need to buy your tickets online in advance. When booking, you will be asked to select a specific day and time, so if you have a certain day in mind, make sure you book ASAP.
We really like that they only sell a certain amount of tickets for each time slot. This helps alleviate time spent waiting in the line to enter, and it allows everyone room to look at each of the installations.
Regular Pricing
$25/person for ages 18 and over ($20 for members)

$17/person for ages 6-17 ($13 for members)

Free for ages 5 and under 
The Sights
If you have gone to Newfields to admire the art and the grounds, to check out their toddler classes, or to attend their Harvest experience, then you already know there is so much to see and do there. However, in my opinion, their Winterlights installations and festivities really take the cake. Some of the amazing sights you'll see include:
Lights dancing to music on the front lawn of The Lilly House

A 50-foot-tall tree made out of toys (donated to families in need after Winterlights ends)

A kissing arbor for photo ops and smooches

Trees fully lit from the trunk to the tips of every branch 

A walk-through tunnel made out of over 30,000 lights

More lights than you've probably ever seen in one place in your life (magical!)
The Tastes
Several food and drink items will be available for purchase during your time at Winterlights. Past offerings have included:
S'mores

Apple cider

Hot chocolate

Adult beverages

Meat and cheese snack packs

Sippable soup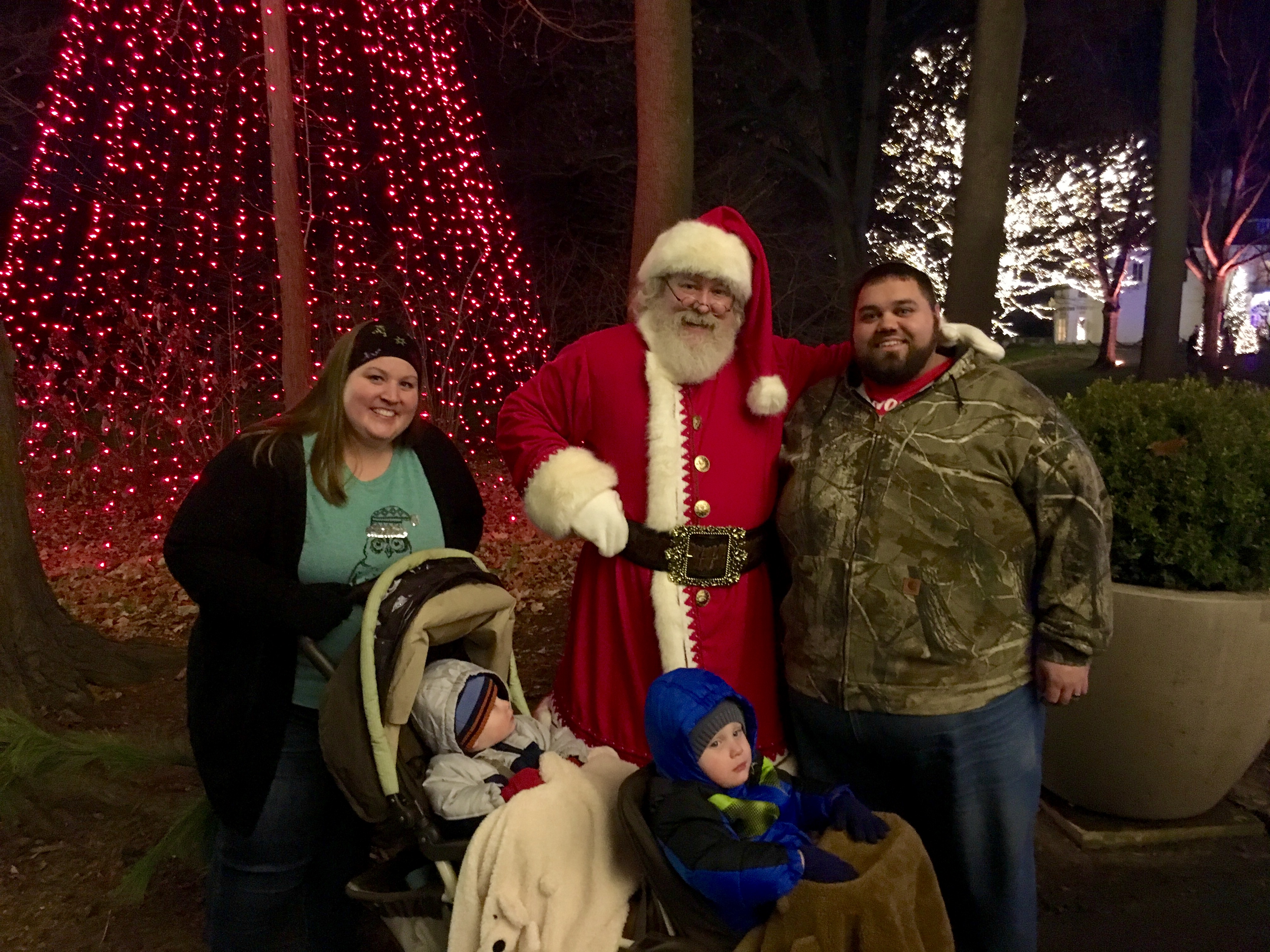 Deck the Halls at The Lilly House 
This part of the night is my absolute favorite! You and your family can walk through the beautiful mansion on the grounds called The Lilly House.
Inside, you'll find each room transformed into a home ready for guests with beautiful place settings in the dining room, exquisitely wrapped gifts around a tree, and handmade paper ornaments hanging from everywhere. You even get to see the antique cars in the garage of the home. There seems to be something in every nook and cranny, and it's all gorgeous and interesting!
Pro Tip: If you have little kids and more than one adult in your group, have each adult tour the mansion by him/herself so you can really take it all in without worrying about the kids grabbing everything. Of course, all children are welcome in the home, so if your kids are less handsy than the Adventure Kids, go for it. 
Add-Ons
When purchasing tickets online and when at the property, you'll have the chance to also add-on light-up Christmas lights necklaces and holographic glasses to bring even more fun to the experience. Of course, if you're like us and you already have these items or similar ones at home, then don't forget to bring them along with you.
Winterlights opened in 2017 and quickly became a Christmas tradition for our family. It's spectacular!