If you enjoy up-close experiences with animals, then put Wilstem Drive Thru Wildlife Park on your must-do list. We visited last week, and our ride through this wildlife park in southern Indiana was nothing short of amazing!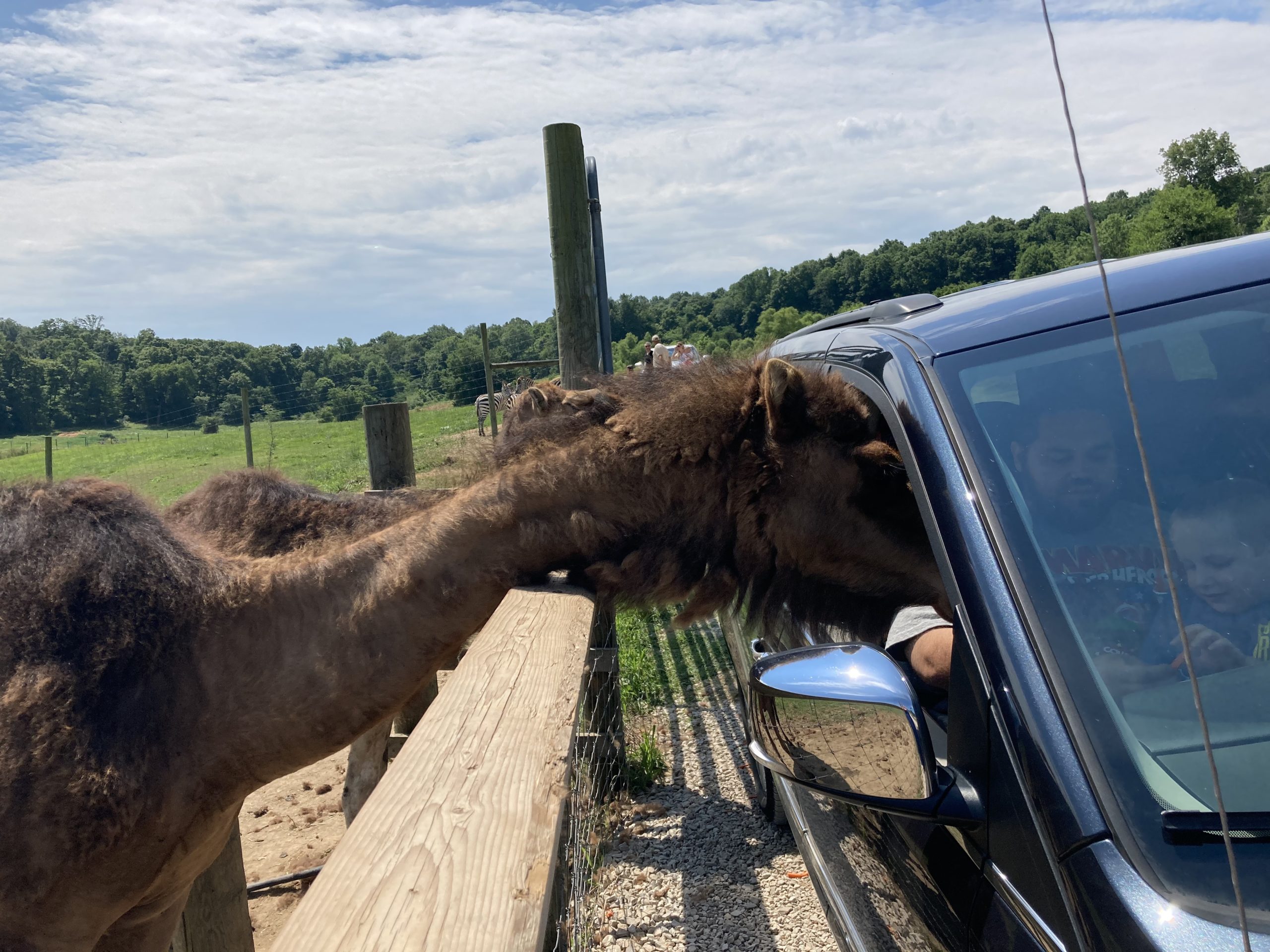 Where is Wilstem Wildlife Park?
Wilstem Wildlife Park (aka Wilstem Ranch) is located in Paoli, Indiana, which is about 2 hours south of Indianapolis. We have visited Wilstem in the past for their giraffe and elephant encounters, and we were blown away by those experiences. In the summer of 2020, Wilstem announced the opening of their new drive thru safari, so we knew we needed to head south ASAP.
What animals do you see on the drive thru safari?
You can see up to 30 different species of animals on the drive thru safari. Obviously, just like when on a real safari or visiting a zoo, you may not see all of the animals. Factors like time of day, weather, and roaming patterns may affect who you see. On our safari, we saw, fed, and/or interacted (like they stuck their heads in our windows!) with the following animals:
Texas Longhorns

Zebras

Camels

Aoudads (African sheep)

Emus

Donkeys

Fallow Deer

Alpacas or Llamas (I don't know the difference. Maybe both?)

Bison

Goats
At Wilstem, there are basically 3 sections to the current drive thru experience:
In the first section, you can feed any of the animals that you see. We fed longhorns, emus, donkeys, and alpacas/llamas. 

In the second section, you roll your windows up and cruise through the bison area. 

In the third section, the animals are inside pens right next to the road. Here, you drive by the zebras (can't feed those guys or they'll eat your hand off), camels (they love carrots), and goats. 
What is the cost?
We opted to purchase the self-guided drive thru tickets and take our own vehicle through the park. These are general admission tickets that you can use any time from 9:00am EST until 4:00pm EST on the day you choose. The self guided non-refundable drive thru tickets can be purchased online. Currently, the prices are:
$15 per adult +$2 processing fee

$13 per senior adult (65+) +$2 processing fee

$10 per child (3-12) +$2 processing fee

Free for 2 and under
 If you don't feel comfortable driving your own car through the safari, you can purchase guided wagon or safari bus tickets for a specific time and day. These non-refundable tickets can be purchased online. Currently, the prices for these tickets are:
$25 per adult +$2 processing fee

$23 per senior adult (65+) +$2 processing fee

$20 per child (3-12) +$2 processing fee

Free for 2 and under
What else is included in the ticket price?
Your family will be given animal food prior to entering the park.The food is included with the ticket price. Also, if you  want, you can visit the Roos and Crews Encounter to see even more animals! Inside the Roos and Crews barn, you'll find:
Kangaroos

African Gray Parrots

Sloths

Hedgehogs

Goats

Tortoises

Pythons

Ring Tail Lemurs

Cockatoos

Iguana

Japanese Silkie Chickens

Porcupines

Giraffes
Can we feed the animals?
Yes! When you get to the gate, you will be given animal food and an explanation of who you can feed. You cannot feed the animals any outside food.
Can we maintain social distance during this experience?
Yes! If you purchase online tickets for the drive thru safari and take your own car through the park, then the only person you will encounter will be the "ticket taker" at the entrance booth. That person will also give you the animal feed. 
If you decide to go inside the Roos and Crews barn, depending on how busy they are, you might have some trouble maintaining social distance. However, when we visited on a Monday in early July of 2020, all workers were wearing masks and most guests were as well. We had no problem maintaining distance between us and other guests inside the barn. There were also hand washing and sanitizing stations available. 
What else can we do at Wilstem Wildlife Park?
There is so much to do here. As I mentioned, we have experienced and LOVED the elephant and giraffe encounters, and we hope to go back soon to see the grizzlies. They even have special VIP encounters, including a "Spa Encounter" with the elephants where you can give them a bath! How fun does that sound?! Here's all that's available at Wilstem Ranch:
Do they have any human food?
Wilstem does sell a few snacks and drinks in their gift shop. They also have a picnic area that you can use if you bring your own lunch. You'll also be close to Paoli and French Lick, so you can drive into one of those towns for food.  
I cannot stress enough how much fun we had on our drive thru safari at Wilstem Wildlife Park. We all laughed and smiled the whole time. We cannot wait to go do it again!