Not too far from the interstate in Brownsburg, Indiana, there is a young woman who is changing the world one rescued farm animal at a time. Her name is Olivia, and she is amazing. The good news for us? We're all invited to visit Olivia and her animals at Oinking Acres Farm. We visited a couple of weekends ago, and it was a squeal of a good time!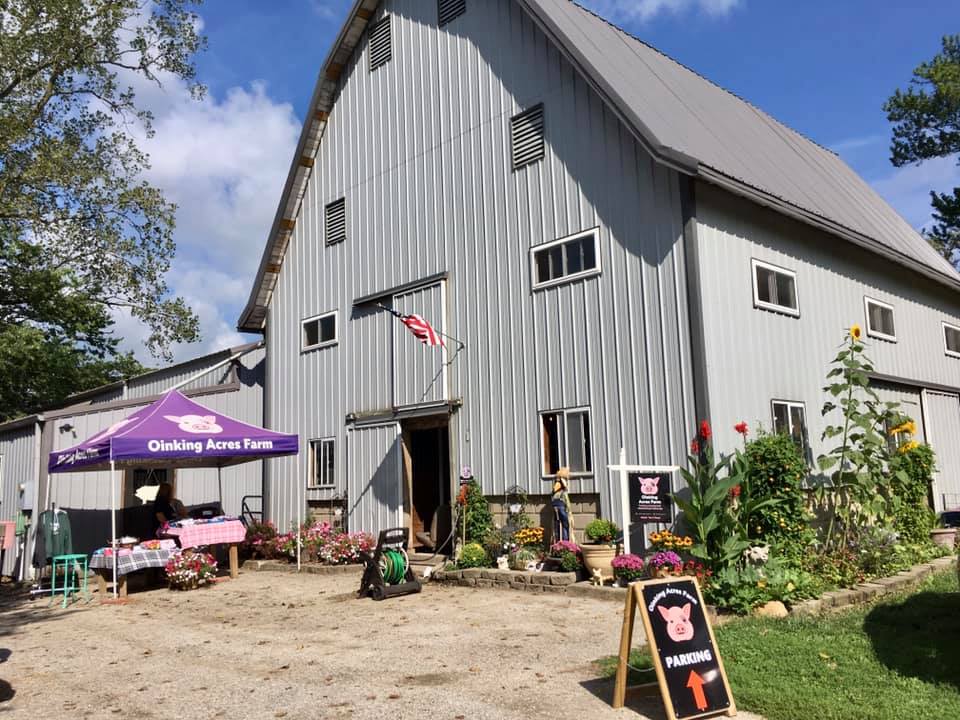 Where is Oinking Acres?
Oinking Acres is located in Brownsburg, Indiana, which is about 20 minutes west of Indianapolis. The address is 8420 North County Road 650 East. 
What is Oinking Acres?
Oinking Acres is an official nonprofit organization, 501(c)(3). Their mission is to "rescue, rehabilitate, rehome, and advocate for abandoned, neglected, abused, and unwanted pot bellied pigs and other farm animals." They also provide sanctuary for animals who aren't able to be adopted. 
Olivia, who was just 14 when she started the rescue in 2017, works with a small team of animal-lovers and rescuers who work long hours to care for rescued animals that consist mainly of pot bellied pigs. Olivia is contacted by animal control organizations throughout Indiana and nearby states when these organizations encounter pigs and other farm animals for which they cannot provide care. Olivia and her team pick up the animals, bring them to Oinking Acres, and then care for them in hopes of finding the animals new homes. 
Oinking Acres also hosts events and birthday parties to help raise money for the rescue and their animals' care. Be sure to check their social media and website in the coming months for new events such as yoga with pigs and other fun opportunities to get involved.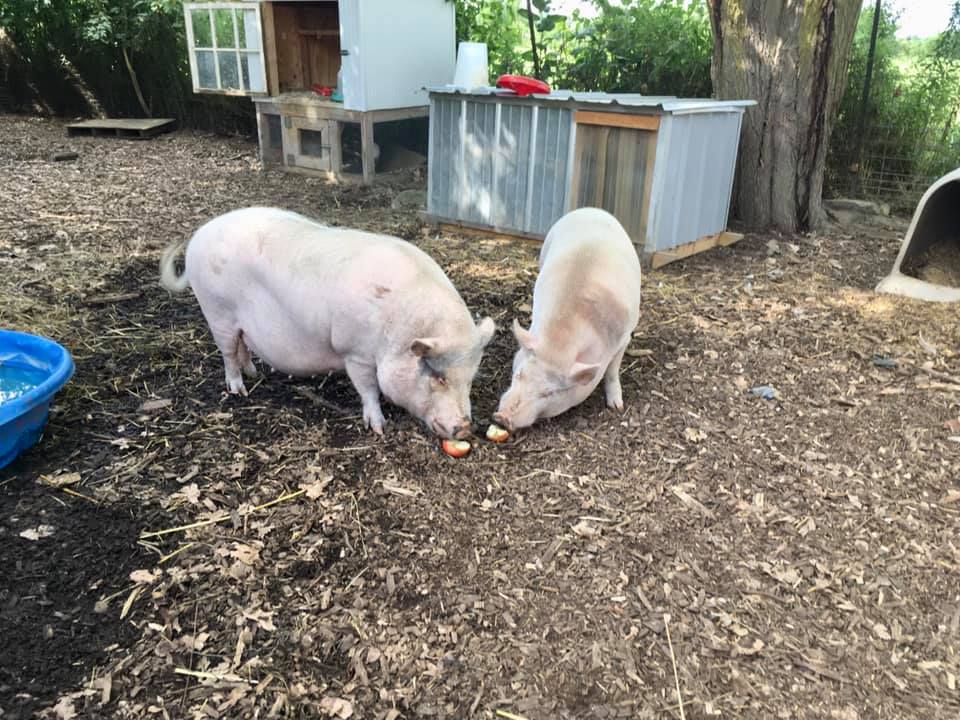 When can I visit?
You'll need to make an appointment for a tour to visit the animals at Oinking Acres. Tours are typically available on weekends and one night through the week. You can schedule an appointment through an online form, or you can contact Olivia through Facebook or via email at [email protected]. 
What can I expect to see and do on an Oinking Acres tour?
Currently Oinking Acres is providing guided group tours limited to 10 people per group. The tours last around 45 minutes. When we visited, we saw around 60 pigs of varying sizes, shapes, and ages. We also hung out with ducks, peahens, and goats. And we met Frank, the famous peacock! If you're from the southside of Indianapolis, like us, you've probably heard of this pretty bird who was roaming the streets of Indy looking for love! 
While on tour, Olivia will introduce you to each of the current tenets and answer any questions you may have about the animals. She will tell you which pigs are especially friendly and would enjoy some rubdowns. Guests are also encouraged to feed *most* of the animals. You can bring along produce like carrots, cucumbers, and apples to toss to the animals while you're on your tour. The staff will let you know which animals like which treats and how to safely feed the animals. 
What is the cost of a tour?
Tours cost $10 per person, regardless of age. They also have cute merchandise such as t-shirts, koozies, and face masks that can be purchased with cash, Venmo, PayPal, or check. Remember this is a nonprofit organization, so all proceeds go directly to helping the animals.
Where can I find out more about the Oinking Acres animals?
They say you can't put lipstick on a pig, but Olivia takes the sweetest pictures of these guys! You can follow Oinking Acres on Instagram or Facebook for your daily dose of cuteness. The farm also has a website with up-to-date information about all aspects of the rescue and its animals. 
Can I adopt a pig from Oinking Acres?
Yes! You can find all of their adoptable pigs online. You'll need to complete an application and be approved first. The cost of adoption is only $150, and all pigs are spayed or neutered prior to adoption. 
Are there other ways I can help Olivia and her animals?
Yes! There are several ways you can help, such as: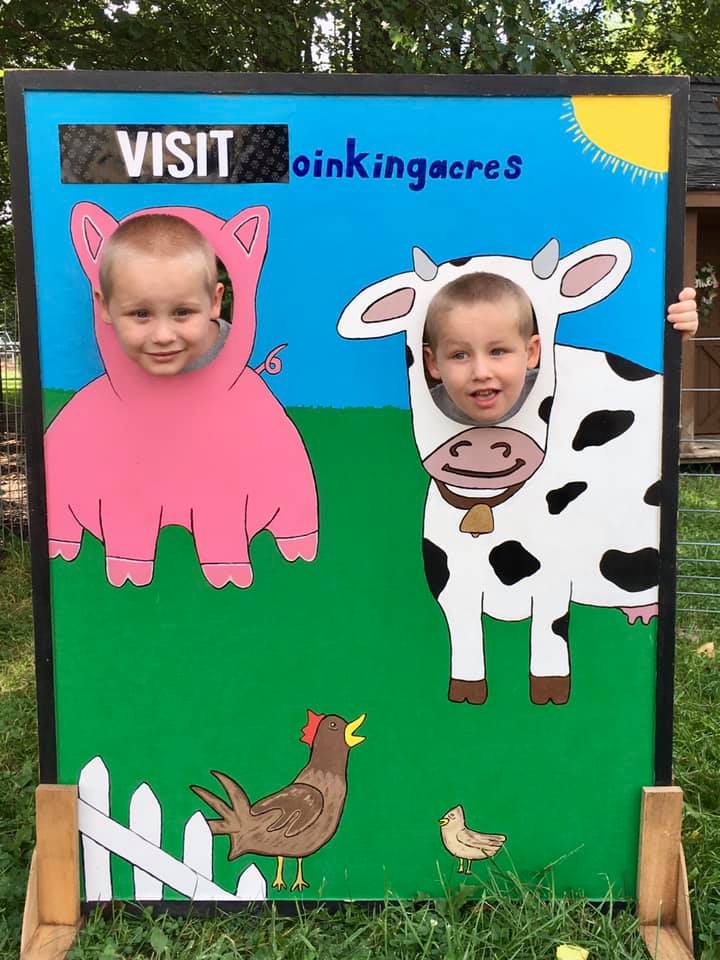 What else should I know?
You're going to be on a farm, so make sure you wear appropriate clothing and footwear.

There are no restrooms available.

Plan for that. 

Pigs have very poor eyesight, so it's best not to let little fingers near their mouths as they might accidentally mistake those fingers for food.

When you arrive at Oinking Acres, make sure you drive all the way to the end of the driveway. They do not own the home on the front of the lot, so do not park near that home or bother the owners. 

If you're thinking of having a

unique birthday experience

for your little ones, Oinking Acres might be the place for you!

If you're looking for somewhere to

board your pig

, Oinking Acres offers that as well.

Even though Olivia is young, she is knowledgeable, dedicated, and organized. As a high school teacher, I have worked with many outstanding young people through the years, and even I was taken aback by how incredibly talented and mature Olivia was in all of her interactions. Kudos to you, Olivia! 
We were absolutely in pig heaven while touring Oinking Acres. We definitely recommend you go visit Olivia and her farm family, so don't wait for pigs to fly before booking your tour!