This year, we decided we would visit all 24 state parks in Indiana, and boy, did we have a great time! We bought the super cheap state park pass (currently $50), loaded up in the minivan, and rolled out to what seemed like every nook and cranny of Indiana. Below you'll find a small recap of what we found of most interest in each park as well as a free printable map that lists what to do at Indiana State Parks. 
Before we dive in, I do want to stress that we enjoyed all of the variety our state parks have to offer. Since almost all of the parks have plenty of hiking trails, shelters, picnic tables, and playgrounds, you won't find those listed here. 
Also, we realize everyone has different ideas of what it means to explore and enjoy nature. In our family, with two active young kids, we don't spend a lot of time birdwatching, meditating, or sitting peacefully around a campfire. We hope to do all of that some day, but for now, we're constantly looking for little bits of excitement and novelty, so you'll find plenty of that in the descriptions below. Oh, and if we missed anything, please feel free to tell us. Happy adventuring! 
Northern Indiana State Parks
Chain O'Lakes

This park contains 13 small lakes, and 10 of those are connected to one another. It is canoe and kayak heaven! We enjoyed some time at the beach with picnic tables and concessions nearby. In addition to the beautiful nature, they also have a 1915 schoolhouse that you can explore!

Park amenities also include boat rentals and cabins.

Indiana Dunes

I have visited this beach many times throughout my life, and every time I see the dunes and Lake Michigan, I am in love. Kids and adults have fun climbing the dunes and taking in the views from the top.

Ouabache

They have bison here! You can take a 1 mile paved hike around the bison enclosure and watch these beasts roam, fight, dip in the water, and do whatever else bison do. We saw all of that up close and personal. You'll also find a small beach in this park and a fire tower that gives excellent views of miles around.

Park amenities also include boat rental.

Pokagon

This park has it all no matter the season! A big lake, a beach, a beautiful inn, a toboggan run, pontoon boat rentals, and sledding and skiing make it the perfect place to visit.

Potato Creek

Worster lake is a man-made lake with a beach and several boat ramps.

Park amenities also include cabins and boat rentals.

Tippecanoe

This 7 mile stretch of the Tippecanoe River is another popular spot for kayakers and canoers.
Central Indiana State Parks
Fort Harrison

This state park is inside of Indianapolis and has lots to do and see. You can explore the 20th Century Warfare Museum, hit the links on the only state park golf course, or take off on a guided horse ride. There are lots of easy trails here as well.

Park amenities also include hayrides, inn, and sledding hill.

Mounds

The boys loved the easy access to creek stomping in the White River that we found here. We also enjoyed the easy stroll around the 10 mounds of dirt made by Native Americans around 160 B.C. You can also check out the pre-1900s Bronnenberg homestead on the property.

Park amenities also include a pool.

Prophetstown

We love animal encounters, so we loved this park! On their 1920s farmstead, you can step into one of the historic farmhouses and view all sorts of knickknacks, furniture, and other artifacts from that time period. Then, you can interact with ducks, turkeys, chickens, cows, horses, sheep, and hogs while touring the farm. There is also a blacksmith forge where you can sometimes see him working.
Additionally, you can explore a Native American village and visit the rock circle paying homage to Native American tribes that came together to protect their land.
The easy, paved trails through the beautiful prairie were also a favorite of ours. If you're into battlegrounds, you can visit the nearby Tippecanoe Battlefield as well.

Park amenities also include a pool.

Shades

This park includes beautiful trails through creek beds and around sandstone cliffs. Their picnic area is the best we found in terms of privacy and that "into the woods" feeling we love.

Summit Lake

We were pleasantly surprised by the size of this beach and peaceful lake that seems to be in the middle of nowhere. It's also close to the Wilbur Wright Birthplace Museum that is worth a look-see.

Park amenities also include boat rentals.

Turkey Run

This park is famous for its picture perfect scenes along its hiking trails. You can also explore historic sites, stay at their beautiful inn, or take a horseback ride through the scenery.

Park amenities also include hayrides, a pool, and cabins.

Whitewater Memorial

We loved this beach! Although Whitewater Lake is right next to Brookville Lake, it is much smaller and very peaceful. There is so much to do and see around Brookville Lake as well.

Park amenities also include horse rides, boat rentals, and cabins.
Southern Indiana State Parks
Brown County

Obviously, this is the "big daddy" of our state parks, and it's just beautiful! There are so many gorgeous vistas and overlooks that force you to stop in awe. The inn and cabins are top-notch and nearby Nashville has so much to do.

Park amenities also include horse rides, hayrides, a pool, and lookout towers.

Charlestown

We walked down to the ruins of Rose Island amusement park to see what the hype was all about. I'm definitely glad we ventured down that hill, but I would never want to walk up that steep mountain (might as well be) ever again. Ha! You can also get some pretty views of the Ohio River from many spots in the park.

Clifty Falls

With four different waterfalls to view and nearby historic Madison to explore, we really enjoyed our time at this park.

Park amenities also include a pool and inn.

Falls of the Ohio

This is probably the most unique park in terms of how it's set up. The park basically includes the small rapids on the Ohio River as well as a dam. There are trails that you can explore when the water is low and there's also an interpretive center (aka museum) with a movie and exhibits showing the importance of the area and its history.
There is no guard shack and entrance fee to the outdoor stuff like at all of the other parks, but you do have to pay a small parking fee, and you will pay an entrance fee if you go inside the museum.

Harmonie

This park was really pretty. We especially enjoyed watching the sun set on the Wabash River. The park is in the historic town of New Harmony. We didn't get much of a chance to explore the town, but I hope to do that someday soon.

Park amenities also include a pool and cabins.

Lincoln

This park is right next to one of our favorite places ever: Holiday World in Santa Claus, Indiana. There are several historical monuments and sites within the park as this is the site of President Lincoln's boyhood home. There is also a little beach that the boys really enjoyed.

Park amenities also include boat rentals and cabins.

McCormick's Creek

If you like exploring creeks, caves, and waterfalls, then this park has you covered. We loved it!

Park amenities also include horse rides, hayrides, a pool, and cabins.

O'Bannon Woods

Explore Wyandotte Caves, an 1830s homestead, and the Ohio River while checking out this park. It's also only 15ish minutes away from our state's first capital, Corydon, where you can find lots of cute shops and historical markers.

Park amenities also include a pool.

Shakamak

The boys enjoyed the multiple playgrounds at this park. We also watched quite a few kayakers relishing their time on the park's three small lakes.

Park amenities also include boat rentals, a pool, and cabins.

Spring Mill

This is one of our favorites! They have a whole pioneer village with a grist mill and many interpreters (actors) who portray pioneers in occupations such as weavers, blacksmiths, and carpenters (similar to Conner Prairie).
There is also a Twin Caves boat tour that we can't wait to go on once it opens again as well as a perfect spot for creek stomping right next to the pioneer village's parking lot.
Additionally, our son Gus got a real kick out of the Gus Grissom memorials in the park and in the town of Mitchell.

Park amenities also include boat rentals, a pool, and an inn.

Versailles

This park is for everyone, but especially for mountain bikers. There are over 10 miles of mountain bike trails here as well as a small lake, dam, and two creeks.

Park amenities also include a pool.
Free Printable 
I made a free printable map of Indiana that includes all 24 state parks with bulleted points of interest to help you and I remember what there is to do at each park. Just click here for the printable map.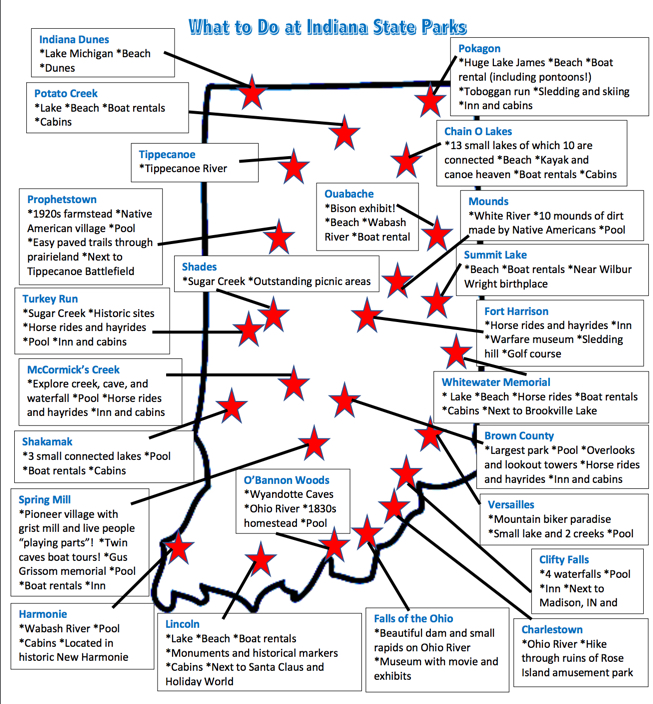 One more thing: To keep track of our state park adventures, I purchased a piece of handmade artwork (below) from an Etsy shop out of Bloomington. I framed it and crossed off the parks as we visited using a dry erase marker. Once we're able to put the craziness of 2020 in the rearview mirror, I'll erase the map, and we'll start all over again! What about you? Do you have any unique traditions for documenting your family's adventures? If so, we'd love to hear or see how!