If someone or everyone in your family is interested in airplanes or spaceships, then you must visit the National Museum of the United States Air Force in Dayton, Ohio. This is the world's largest and oldest military aviation museum, and it is a perfect museum for Midwestern families to visit. 
Why should we visit the Air Force Museum in Dayton?
Here are our top 3 reasons why we think you should make plans to visit ASAP:
It is FREE to visit. Admission is free. Parking is free. Wifi is free. In most cases, you get what you pay for, but in this case, you pay for nothing and you get to explore the world's largest and oldest aviation museum.
Fun and learning are everywhere in this museum. Even though our kids are little and don't allow us to take the time we want to read all of the exhibits, we still were amazed by how much we learned about aerospace and military history. As for the boys, even though they aren't readers yet, they were able to learn about flight and "the good guys and bad guys" by seeing, touching, and feeling the manipulatives at many of the exhibits and learning stations. If you are interested in more

structured learning opportunities

, the museum offers those as well. Educational offerings include STEM learning nodes, classes for homeschool groups, pilot courses, aerospace camps, and

tours

. 

In the case of these flying machines, pictures and video do not do them justice. You really have to see these aircrafts and missiles in-person to truly understand the sheer size, the tremendous power, and the immense courage it must take to fly, launch, or propel these man made wonders through the air. 
What is inside the Air Force Museum in Dayton?
We were blown away (get it?) by how much there is to see and do inside of the Air Force Museum. Basically, the museum consists of 4 hangars and a silo filled with aircrafts, missiles, and artifacts.
There are more than 13 huge galleries that take you through the early years of flight all the way through outer space. They also have an outdoor air park and playground for exploring when it's nice outside. Here are our top 3 favorite indoor exhibits:
The boys loved this exhibit because there are several sit-in cockpits with buttons and levers galore. They pretended they were heroes flying over the skies protecting us from the bad guys. They did not want to leave this area. Adventure Dad and I loved this exhibit because there is a B-2 Stealth Bomber on display, and it is awesome!
We all found this exhibit so interesting and engaging. There are countless stories of heroes from WWII that I'm afraid aren't taught as much as they should be in our homes and schools. The museum does a fantastic job at highlighting some very important stories in this exhibit. We really enjoyed learning about:
This space out-of-this-world! Ha! First, you can walk onto and explore a full-size mockup of a NASA space shuttle. You can also look inside the cockpit (with over 2,000 controls!) and mid-deck areas.  Additionally, you can check out all types of space suits, satellites, engines, and other space aircraft and vehicles.
There is even an interactive learning space within the Space Gallery, provided by Northrup Grumman, where everyone can learn and interact with videos about space exploration. However, the highlight of this gallery for the Adventure Kids was playing inside the simulators next to the space shuttle. They've now both decided they will be astronauts when they grow up.  
What are the other galleries inside of the Air Force Museum?
There really is so much to see! In addition to our favorite galleries listed above, you can also explore:
When can we visit the Dayton Air Force Museum?
You can visit 7 days a week from 9:00am to 5:00pm. And, in 2020, the museum is open until 8:00pm on the first Thursday of every month. The only days you cannot visit are Thanksgiving, Christmas Day, and New Year's Day.
Some exhibits do have special hours and are closed during the winter, so check their website for details about those.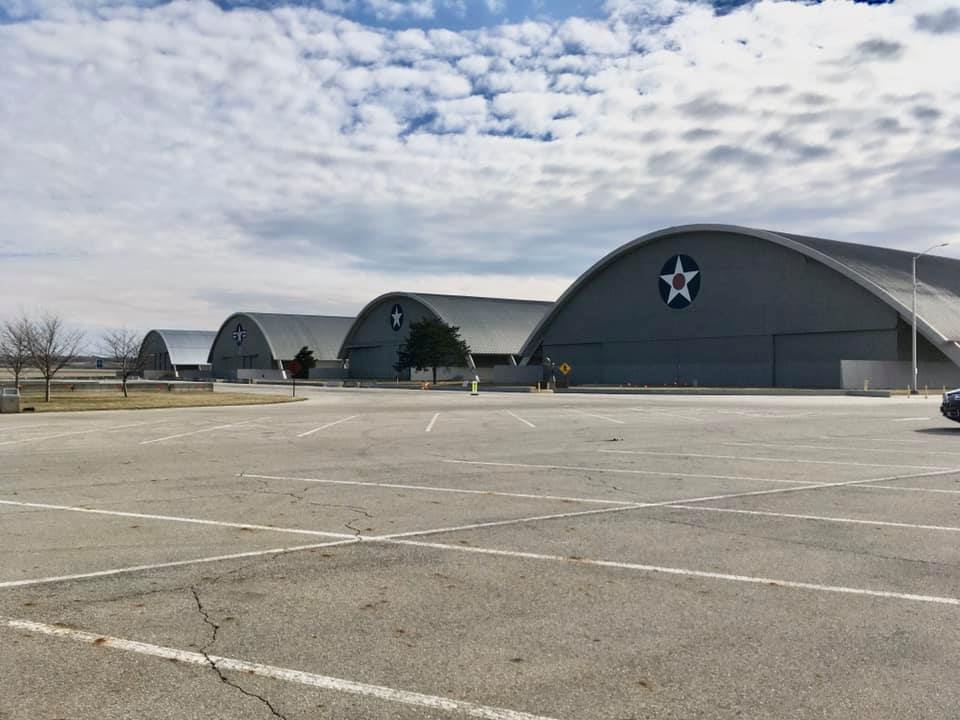 How much is admission to the Air Force Museum?
Zilch. Nada. Nothing. Admission is free! 
However, if you want to see a movie in the museum's theater or have a thrill inside the museum's simulator and virtual reality rides, there is a cost for those tickets. We can't wait until the boys are taller so we can go back and get wild in those simulators!  
Is there anything to eat at the Air Force Museum?
Yep, they have food. And it's a good thing, too, because there is a lot of ground to cover at this museum. When your troops are thirsty or hungry, the museum has two different cafes with a variety of drinks and food. Some menu items include pizza, wraps, hotdogs, salads, and chips. 
Is the Air Force Museum in Dayton on an Air Force Base?
Yes, the museum is located at the Wright-Patterson Air Force Base in Dayton, Ohio. You do not need any special credentials or passes to get in the museum, though. 
Does the Air Force Museum have wheelchairs for guests?
Yes, they do have a limited supply of wheelchairs and motorized chairs available for free for guests. However, if you have your own, they ask that you bring that with you. I also noticed while we were exploring how easily accessible everything seems to be for those in wheelchairs.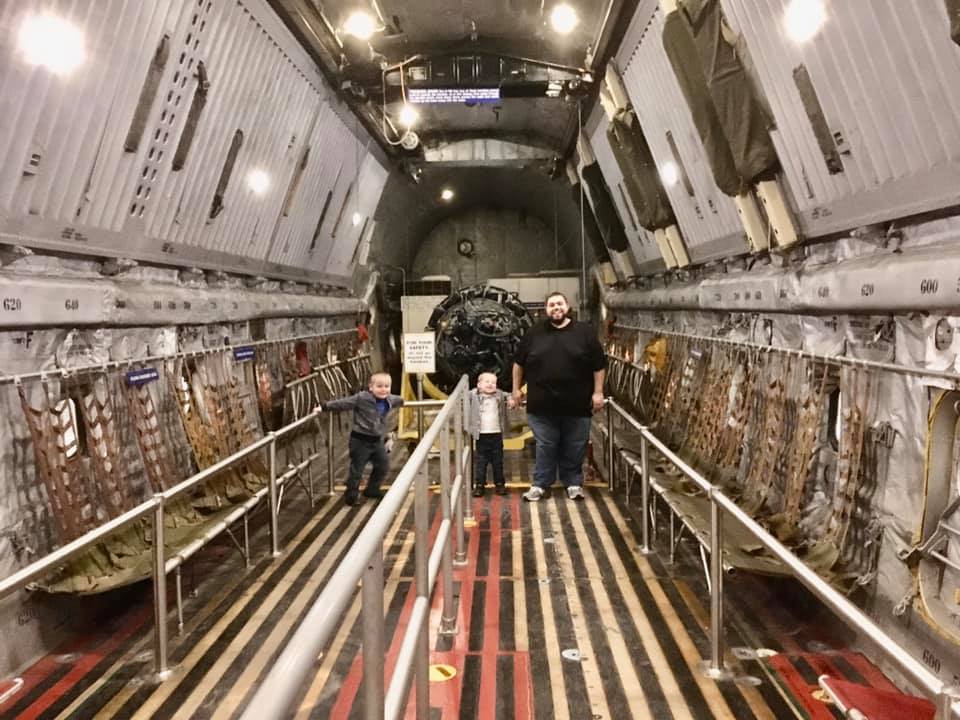 We spent several hours at the Air Force museum and were able to see all of the galleries except one. However, I think we could have spent even more time there, especially if our kids were a little older or if we only had adults in our group. We'll definitely be back! 
Have you been to the Air Force Museum in Dayton? If so, what was your favorite gallery or exhibit? If not, when do you plan to visit?