If making loud noises gets your kid all jazzed up, then you need to visit the Rhythm! Discovery Center in downtown Indy. This interactive indoor percussion museum has something for everyone. Trust us: It's a unique and fun place to spend a bangin' day!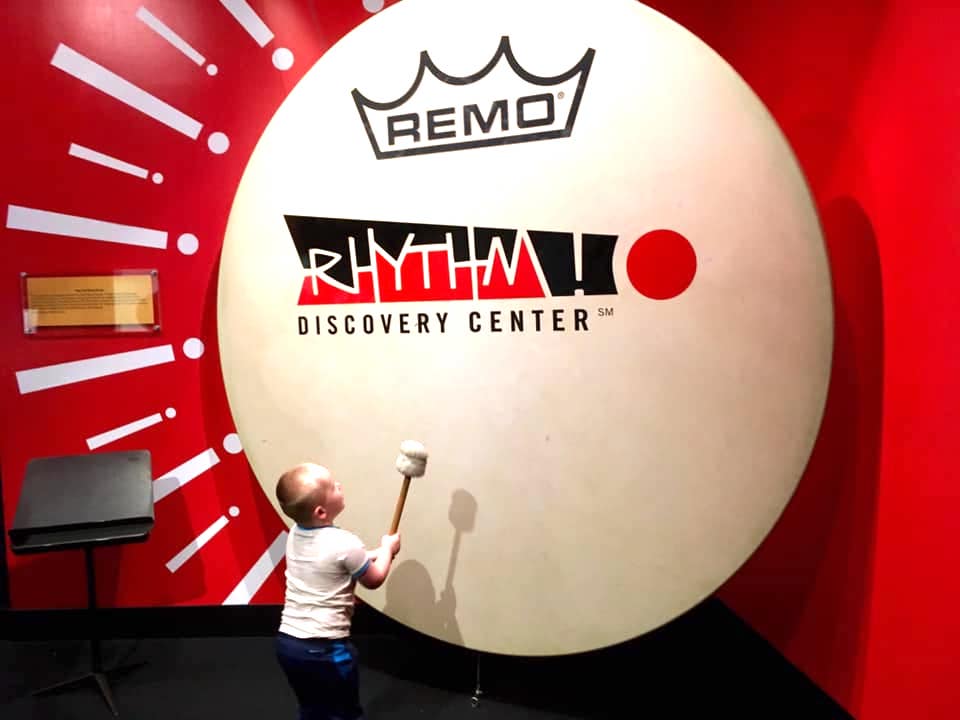 The Instruments!
The unique part about this museum is that they invite visitors to immerse themselves in the experience by playing many of the instruments. Since this is a museum, there are some displays and instruments that should not be touched. These are clearly labeled and either roped off or placed on platforms. However, as parents of young children who want to touch everything, we can assure you that there is plenty to touch, bang, pound, and bong (over 150 touchable instruments!). 
The Adventure Kids' favorite instruments include:
The eight-foot gong that everyone must bang as a rite-of-passage when entering the museum.

The giant log drum that makes fun and interesting noises. 

The timpani (giant kettledrums) drums that must be banged because of their sheer size.

The sound-isolating practice rooms with real drum sets that make everyone feel like a true rock 'n' roll legend.

The Groove Space with tons of small instruments and plenty of room to get in the groove.

The drum circle (on Saturday and Sunday) that invites everyone to enjoy rhythm and express themselves together with beats that are fun and easy to follow.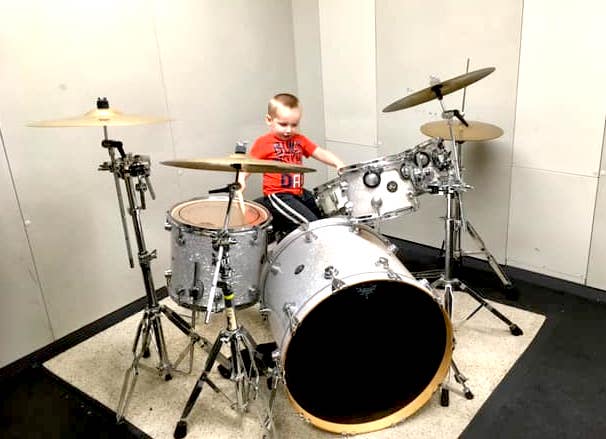 Drum Circle Hours
The drum circle is for everybody. We love this! It is led by a staff member (and you!) and takes place on Saturdays at 11:00am and 2:00pm and Sundays at 2:00pm. 
Learning
Part of the center's mission is to help visitors understand the important role that percussion plays in cultures throughout the world. To this end, they have displays containing just about any percussive instrument you can imagine throughout history. Some of the learning exhibits include:
Videos about how percussion has played a role in other cultures

Videos teaching the basics of drumming

Learning stations about drums made out of unique materials including LEGOs and meteorites

Practice drum pads and drumsticks

Displays of drum sets used by famous drummers such as

Rush

drummer

Neil Peart
Other Totally Kid-Friendly Points of Note
If you have really little guys and gals with you, you'll be relieved to know that strollers are permitted throughout the museum and changing stations are available in their clean restrooms. Also, we like that you don't need to purchase tickets ahead of time. So if somebody wakes up with an illness, you can just go on a different day.
Additionally, the museum is the perfect size for those with little kids in tow. You can see everything in just a few hours, you don't have to worry about losing a kid in a massive crowd, and you can decide whether or not you want to spend more time in one area or another.
Finally, they have a lot of cute and affordable souvenirs in the gift shop that are perfect for the little ones to take home and continue their rhythmic experience.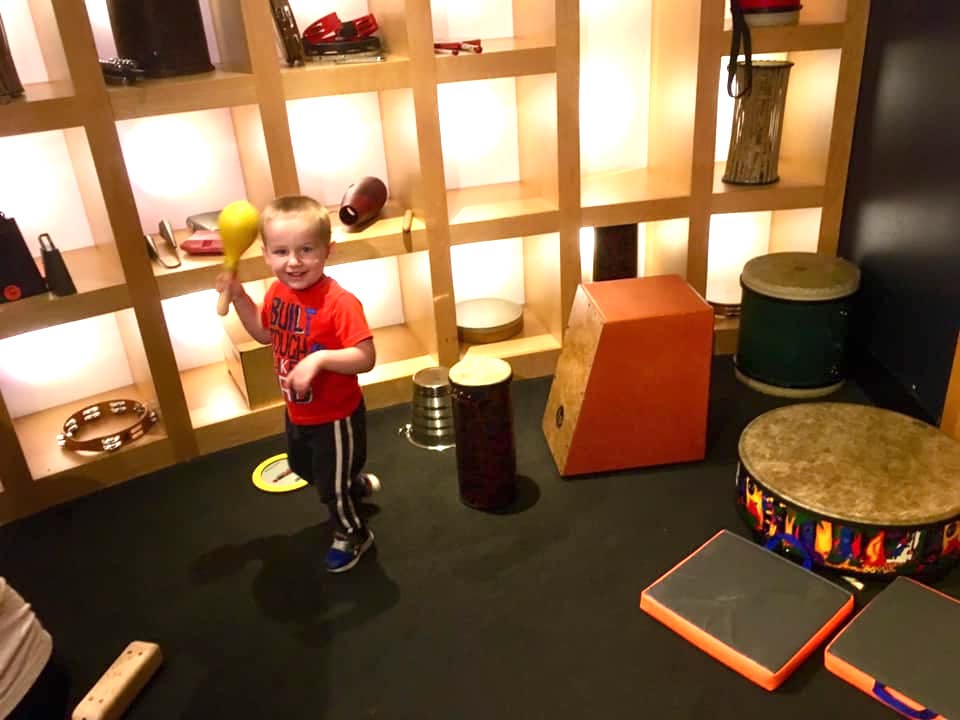 Location and Parking
Rhythm! Discovery Center is basically located in the basement of the Circle Centre Mall at the corner of Illinois and Washington Street (below the Panera Bread and Weber Grill). The official address is 110 W. Washington Street. The best places to park would be on the street close to that corner or in one of the Circle Centre parking garages. 
Hours
Monday: 10:00am – 5:00pm

Tuesday: Closed

Wednesday – Saturday: 10:00am-5:00pm

Sunday: noon-5:00pm
Price
Children 5 and under = FREE

Children ages 6-16 = $6/person

Adults = $12/person

Seniors = $8/person

Students ages 17-25 (with ID) = $9/person

Group (10 or more) = $6/person ages 3 and over
Parking Price
If you park in a Circle Centre garage, the price is typically $3 for 0-3 hours and $6 for 3-4 hours. If you park at a street meter, the price is $1.50 per hour or FREE on Sunday.
Food
Food is not allowed in the museum, but there are lots of options for lunch in and around Circle Centre. For families, we recommend the mall food court where you can find several options including the only Cinnabon in Indianapolis. 
Should You Visit?
I hope we have convinced you to go visit Rhythm! Discovery Center. I had never even heard of this place until I had kids, but I'll tell you what, I think it is fun for everyone. Here's a closer look at who I think would enjoy this museum:
A couple on a day date? Yep.

Field trips and homeschool groups? Yep.

Members of a garage band? Yep.

Adults who like music? Yep.

Teens who like music? Yep.

Families with small children? Yep.

A group of adults spending the day downtown before another event or concert? Yep.

Anyone who has a pulse? Just about (see below).

Anyone who hates loud noises? Probably not (unless wearing earplugs).
Have you been? What did you think? What was your favorite exhibit? We'd love to hear from you!
Want more drum circle action? Check out Bongo Boys in Castleton.