The Ark Encounter near Cincinnati is something you have to see to believe. Have you heard about this giant boat and theme park in northern Kentucky? Wondering what it's all about? Wondering if you should take the kids along? Same here! Luckily, the Ark Encounter hosted our family so that we could give you our firsthand account of the experience.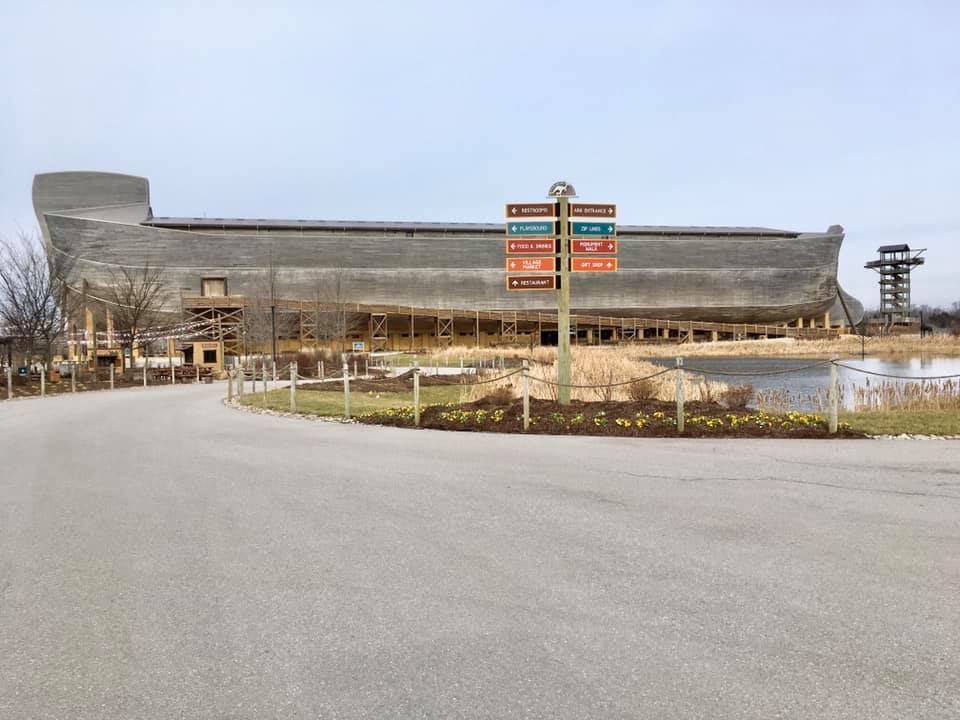 How Big Is It?
Huge. Ginormous. It's the largest freestanding timber-frame structure in the world! Specifically, the ark is:
510 feet long (over 1.5 football fields long)

85 feet wide

51 feet high (the height of a four-story-tall house)
Where Is It?
The Ark Encounter is in Williamstown, Kentucky, which is:
2 hours and 15 minutes southeast of Indianapolis, Indiana.

40 minutes south of Cincinnati, Ohio.

50 minutes north of Lexington, Kentucky.

1 hour and 30 minutes northeast of Louisville, Kentucky.
Is It On Water?
Nope. It is not on water and was not built to float.
What Is There To Do?
There is quite a bit to do at the Ark Encounter theme park, especially if you go when it's warm outside. Here's what you can expect to do and see:
Exterior of Noah's Ark.

Behold the giant wooden ark. Stand next to it in different spots and take pictures with your family and friends. Stare in amazement. It truly is astonishing.

Interior of Noah's Ark

.

Go inside the ark and tour the three levels of exhibits. The exhibits are all designed to explain the biblical accounts of the flood, Noah, and the animals. You will feel like you have stepped back in time as you tour the living quarters, listen to the sounds of the animals inside, and view the lifelike sculptures of animals in their pens. An animatronic Noah will even answer preloaded questions for you. Simply seeing the interior of this structure is a spectacle unto itself. It truly is beautiful. 
Theaters.

Inside of the ark, you'll also find two different theaters where you can view two interview-style videos, each around 20 minutes in length. They are both designed to teach about Noah and the ark. We would recommend these for older children and adults. 

Animals on Deck Two.

There is a small area on deck two where you can pet and learn about some of the animals from the outdoor Ararat Ridge Zoo. When we visited, we met a snake, pigs, and a hairy armadillo (so cool!) in this area. The Adventure Kids loved this.

Ararat Ridge Zoo.

This petting zoo is right outside of the ark. Admission to the zoo is free with your admission to the ark; however,

camel rides

cost $8 per person. When we were visiting in January, it was very cold outside, so we only were able to see the goats at the zoo. However, if you visit when it's warmer, you might see:

Kangaroos

Ostriches

Pigs

Lizards

Llamas

Alpacas

Camels

Emus

Armadillos

Tortoises

Playground.

Outside, you'll also find a playground for kids to enjoy slides, swings, and climbing. 

Fossil Find.

You can purchase $10 bags of dirt containing fossils, petrified wood, amber, coral, and/or a shark's tooth. There is a mining area to discover what's inside of your bag. 

Screaming Eagle Zip Lines.

The

zip line experiences

range in cost depending upon age of the participant and how long of a session you book. The sessions start at $29 for 1.5 hours for a child. Reservations are recommended. 

Eat.

There are

several different restaurants

on the property such as a buffet, a smokehouse, and a hamburger joint. Various vendors also sell treats such as ice cream, nachos, pretzels, and popcorn. Additionally, there are several places to grab other snacks and coffee. Just check their website ahead of time to see which restaurants and vendors will be open when you visit, especially if you're going in January or February. 
How Much Is It? 
Great news! Right now, children 10 and under are FREE with one adult or senior ticket purchased. And just one adult or senior ticket can get in as many children as you have in your party for free. These are the prices for one day admission to Ark Encounter:
$49.95 per adult

$39.95 per senior age 60 and older

$24.95 for child age 11-17
Is Parking Free?
No. You'll pay $10 per vehicle for parking unless you live in one of the counties around the Ark Encounter.
Can I See It From the Road?
If you're thinking about just driving by to see the ark, think again. When you get to the property, you will drive into a huge parking lot. From there, you will take a bus for a 1-mile-long trip back to the ark. In other words, you cannot see the ark from public roads. 
How Much Walking Will I Do?
Quite a bit of walking is required to get from the parking to the bus, the bus to the ark, and then throughout the ark and on the grounds. If you have mobility issues, they do have ECVs and manual wheelchairs for rent. 
Can I Take a Stroller?
Yes! There is plenty of room for strollers and wheelchairs throughout the Ark Encounter and the outdoor areas. They even rent strollers if you need one. 
How Long Will I Spend at the Ark Encounter?
We think this will vary widely depending upon a few main factors:
the age range of people in your group 

the time of year you visit (more to see and do in the warmer months)

how interested your group members are in really learning from each of the exhibits and reading all of the material throughout the ark
Based on these variables, we think you could spend anywhere from a couple of hours to an entire day exploring. 
When Is It Open?
The Ark Encounter is open year-round. However, they are open during different days and hours in each season, so you'll need to check their website for the specifics.
If you have any other questions about the Ark Encounter, please feel free to ask us a question in the comments or on social media. We'd love to help you out!