We recently attended what turned out to be the most entertaining and laid-back festival and parade of all time! The Basset Bash and Waddle in middle-of-nowhere Dwight, Illinois is absolutely hilarious. 
If you want to join in on the fun next year, mark your calendar now for the third weekend of September.
Location
The two-day long Basset Bash and Waddle event coincides with the three-day long Dwight Harvest Days.
Dwight, Illinois is a small town in Northeast Illinois. It is a little over 3 hours northwest of downtown Indy, 1 ½ hours southwest of downtown Chicago, and a little over 3 hours northeast of downtown St. Louis.
Dwight is an adorable little village with less than 4,500 residents. It also contains part of the original famed Route 66. 
There is no direct route to Dwight from Indy via interstate, but it was so nice to drive through the Indiana and Illinois countryside during harvest time.
Along the way, we saw tons of tractors and farm animals. The Adventure Kids loved the route!
We took I-65 up to the Winamac exit, which is exit 220. Right off of the exit is Fair Oaks Farm.
While there, we stopped in to visit the clean restrooms and try out a couple of dairy snacks. Fair Oaks Farm is a really nice place to stretch, eat, or play if you're around that area.  
What To Do 
There is so much to do throughout Dwight and at the Guardian Angel Basset Rescue (GABR) park at the edge of town.
Since we were there with Flash, our 7-year-old Basset Hound, we spent most of our time in GABR park. Flash and the Adventure Kids were in heaven in the park where hundreds of Bassets were able to mingle off-leash.
Each year, the Harvest Fest and the Basset Bash and Waddle have a shared theme. This year's theme was pirates.
The Basset Bash is a completely free event to attend with your Basset(s). You just need to register online ahead of time. And, if you're looking to adopt a Basset, they are there waiting to meet you. 
It is so amazing to see so many Basset Hounds running around (and mostly sitting around) free as can be.
Bassets are kind and laid-back dogs, and we were happy to see that their owners are just the same! Everyone in GABR park was sweet and welcoming to our whole family.
These owners and their dogs are loyal and loving. No doubt about that.   
Here's what all went down on Saturday and Sunday in GABR Park before the Waddle:
Costume Contests (Flash WON best overall costume!)

Great American Basset Races (6 heats and a championship race)

Longest Ears Contest

Youngest and Oldest Contest

Kids Tent with Games and Prizes

Raffles

Silent Auction

Live Auction

Best Trick Contest

Memorial Service

Face Painting

King and Queen Basset Coronation

Food Trucks and Vendors
In town at the

Harvest Days festival

, there was even more to do:
Car Show

Amusement Rides

Lip Sync Battle

Kiddie Tractor Pull

Craft Show

Cutest Baby Contest

Food Trucks and Vendors

5K Run and 3K Walk

Mud Volleyball

Flea Market

Escape Room

Free Photo Booth

Live Bands

Outdoor Movie

Pumpkin Painting

Magic and Clown Show

Free Kiddie Train Rides

Kiddie Carnival

Trivia Games

Bingo

Chainsaw Carving

Face Painting

Silent Auction
The Waddle
The Basset Waddle is a parade through town led by over 100 Basset Hounds and their owners.
Along the parade route, most of the Bassets walk, but some are pulled in wagons or carts. This adds even more to the cuteness factor. 
Also in the parade are what you would expect to see in a small town parade:
Emergency Vehicles

Football Players

Cheerleaders

Cub and Girl Scouts

Marching Band
The streets are lined with townspeople and visitors. Many of the residents set out water bowls for the dogs. It is so completely adorable!
All Basset families are encouraged to walk in the parade.
At the end of the parade route, there are trailers waiting that drive the dogs and owners back to GABR park. (In case you didn't know, Basset Hounds tire quite easily. Ha!)
Guardian Angel Basset Rescue
The Guardian Angel Basset Rescue (GABR) organization is headquartered in Dwight, Illinois. GABR is a nonprofit organization that rescues Bassets from Illinois, Indiana, and Eastern Missouri. 
GABR has been around for nearly 25 years. The organization provides veterinary care and a network of foster homes while the rescued hounds are awaiting adoption.
If you would like to help support GABR, you can adopt a dog, volunteer to foster, donate money, or volunteer at events.
Additionally, you can join the Best Friends Forever (BFF) program and pledge to automatically donate a set amount of money each month to help rescue Basset Hounds.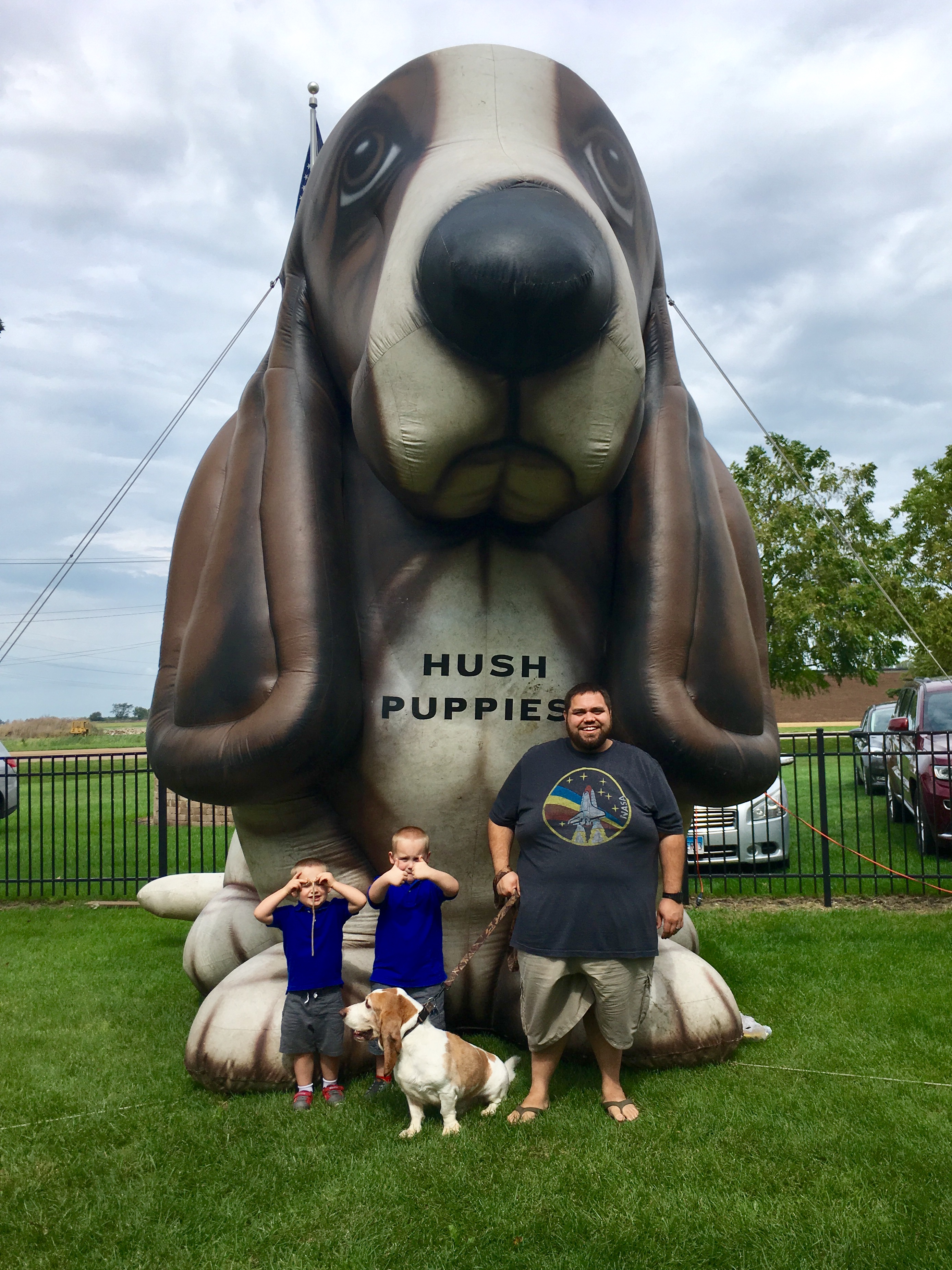 Old Route 66 Family Restaurant
While in Dwight, we ate at the Old Route 66 Family Restaurant. We were pleasantly surprised by the quality and variety of home-cooked food they serve.
They've actually won contests for their broasted chicken. We tried it, and it was delicious! We recommend you check them out if you're in the area. 
Lodging
We stayed the night in nearby Morris, Illinois at the Holiday Inn Express.
We were very pleased with the hotel's cleanliness and accommodations.
Morris is the "big city" closest to Dwight. The Illinois River runs through it, and there are lots of restaurants and attractions in town.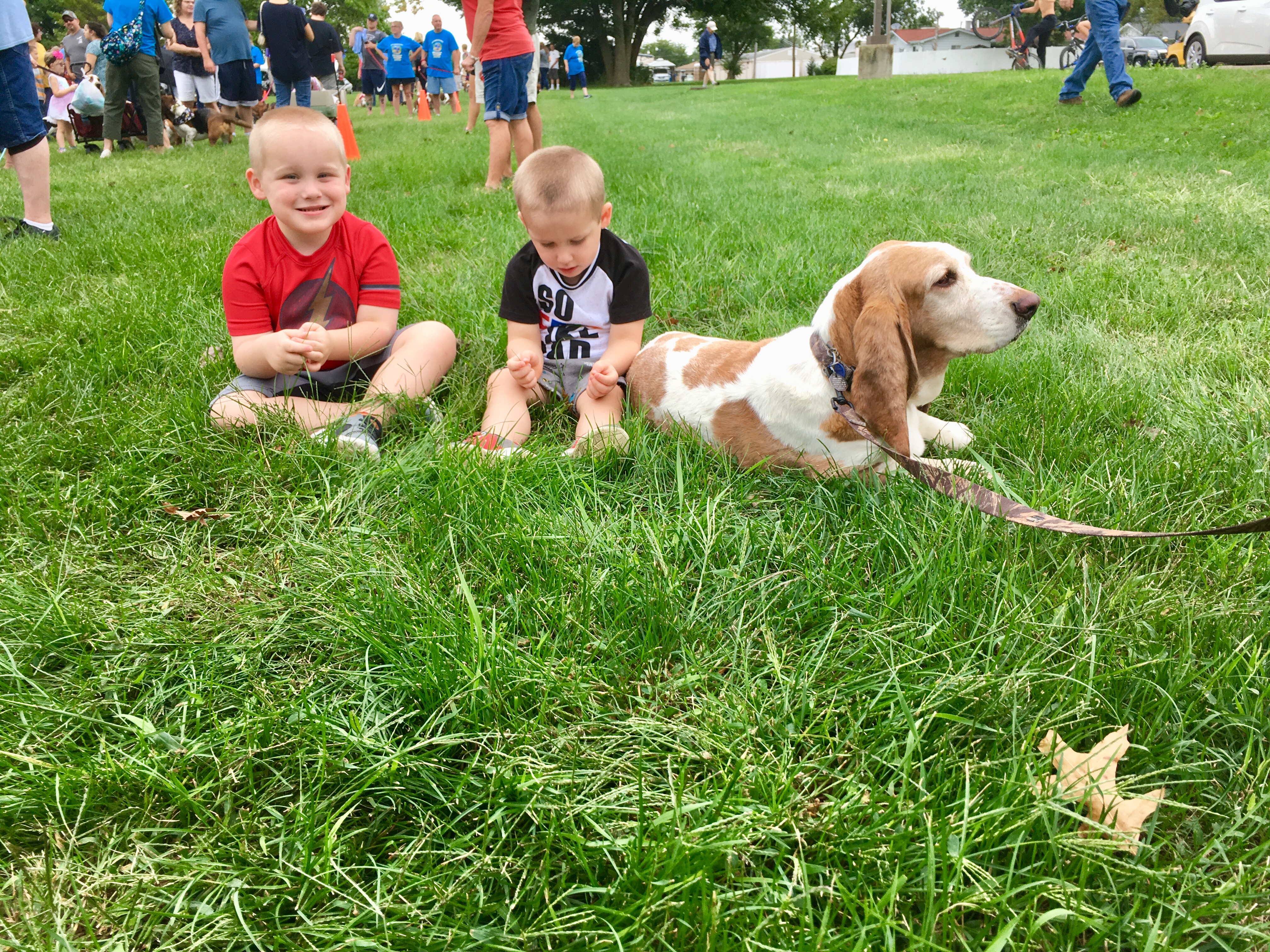 Flash was definitely living his best life at the GABR Basset Bash and Waddle! He has been resting ever since.
It was so much fun to watch Flash and the Adventure Kids interact with all of the other dogs and owners.
Even though we were completely covered in slobber by the end of the weekend, we loved every minute of it. We will definitely be back so that Flash can defend his title of "Best Overall Costume."  
Do you know someone who has a Basset in his/her family? Or maybe someone who loves hound dogs? If so, make sure you share this post with him/her.