It might sound really strange to you that we would suggest taking your children to a casino. Like, what? Why? But if you'll just hear us out on this one, we think you'll be convinced that taking your family to The Rising Star Christmas Casino in Rising Sun, Indiana this holiday season is the way to go.
Location
First things first, the Rising Star Christmas Casino is a riverboat casino located in Southeast Indiana on the Ohio River. It is docked in what is called the tri-state area of Indiana, Kentucky, and Ohio.
The casino is 45 minutes from Cincinnati, 1 hour and 45 minutes from Indianapolis, and 1 hour and 20 minutes from Louisville. By the way, this part of Indiana is gorgeous and friendly at any time of the year. 
Santa, Mrs. Claus, and Live Reindeer
The main draw for the Adventure Kids is seeing Santa, Mrs. Claus, and the real, live reindeer.
The reindeer are housed out front of the casino in Santa's Stable. You can walk right up and see the reindeer for free.
Santa and Mrs. Claus can be seen inside the lobby of the resort three or four days each week starting in November. We have visited several times, and there has never been a line. However, we've heard that during the day on Saturday, especially close to Christmas, there is sometimes a wait. 
Visiting Santa and Mrs. Claus is also free. You can take as many pictures as you'd like on your own camera. Mrs. Claus will even help take pictures if mom wants to get in them for once. Ha!   
Lavish Decorations
Starting when you come up the long driveway to the casino, you'll see over-the-top decorations. It's really beautiful!
Inside of the resort, the decorations become even more spectacular as you're greeted with a giant, animated 12 Days of Christmas tree. There is lots of garland, decorated trees, animatronic winterland animals, twinkling lights, and everything else you'd expect from a Christmas wonderland.
Before you leave, make sure you take a trip down the hallway leading to the hotel rooms (past the hotel lobby). Here you'll find a little more magic with twinkling trees and icicle lights. You don't have to stay at the hotel to check this out. 
Shopping and Food
Inside of the resort's lobby, a stone's-throw from Santa, you'll find two shopping opportunities:
The first one you'll see is the Christmas Market Village. It is made to resemble a

Christkindlmarkt

(German Christmas market), but you pay for everything at one cash register. There are some unique gifts there. One year I was able to score some really good deals on

Melissa and Doug toys

and personalized ornaments. 

Inside Santa's Workshop, you'll find clothing, accessories, and a different variety of gifts.  
There are also three dining options available inside of the resort:
If you want to get fancy, make reservations to eat at

 Wellington's. Here you'll find upscale steak and seafood options. During the holidays, you may also choose to be served family-style meals including

roasted goose, winter truffles, stuffed pork tenderloin with figs and chestnuts, and dry aged NY strip steak. 

For a quick, casual meal,

Ben's Bistro

has appetizers, sandwiches, and desserts. 
Important:
All of the shopping, dining, and Christmas options I've listed in this article take place outside of the casino itself. You must be 21 years old to enter the Rising Star Casino.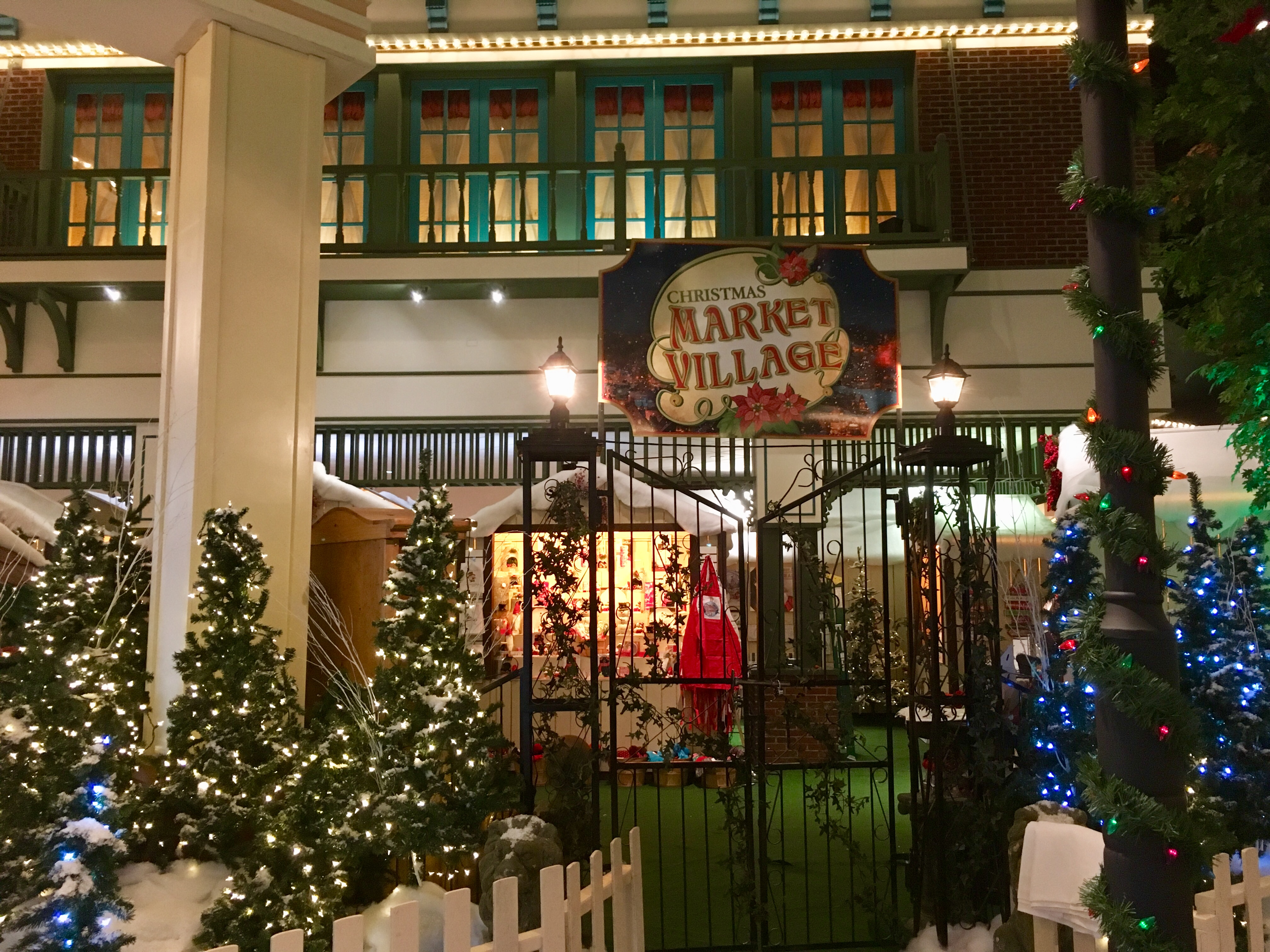 Ferry Boat
The MS Lucky Lady Ferry Boat is a must-do if you're in Rising Sun. We have taken the ferry back and forth across the Ohio many times. The Adventure Kids get a huge kick out of riding the ferry!
You can get out of your car during the short trip and take a look around. Children must wear a life jacket while walking about, so just ask the attendant for one before letting them hop out. Sometimes we drive along the river in Kentucky for a little bit to check out the sites, and sometimes we just turn right back around and come back across the river.
Sometimes the ferry gives free rides. However, when they are charging for the ferry, it's typically $5 one way and $8 round trip. If you have to pay, they usually give you a voucher for the amount you spend that you can then take into the casino and exchange for cash if you have a Rising Star Rewards card. So if you spend $8 on the ferry, then they give you $8 cash in the casino.