Conner Prairie, Indy's living history museum, has created a new holiday tradition for our family with their Merry Prairie Holiday Festival. If your family enjoys Christmas lights, learning about history, or tubing, then this is really a unique experience you must visit! Read on to hear all about why the Adventure Kids had so much fun exploring this event.  
Conner Prairie and Event Details
Conner Prairie

provides hands-on and interactive experiences that allow visitors to immerse themselves in their surroundings and with Conner Prairie staff who dress, speak, and act like Hoosiers would have in the mid-1800s.

The museum is located at 13400 Allisonville Road in Fishers, Indiana (just north of Indy).

This museum is Indiana's first Smithsonian affiliate. They offer many seasonal events and learning experiences for all ages. In addition to visits throughout the year, the Adventure Kids have enjoyed their

Headless Horseman

experience in the fall, their

indoor play areas

in the winter, and  their

preschool classes

in the spring and summer.

The

Merry Prairie Holiday festival

takes place in the evenings and mostly on the weekends in November and December.

Tickets should be purchased in advance for anyone 2 years old and older. Non-member tickets are $22 per person in 2021.

Children under 2 are free.
Holidays Past
Other than the tubing, which I'll get to in a minute, the Holidays Past area was our favorite experience of the night. The Adventure Kids love visiting other people's homes, and our oldest really enjoys asking strangers lots of questions, so it's like this area was made just for them!
During our visit in 2019, here's what went down: When we first entered the historic 19th century village, it looked like nothing was open. However, we were soon welcomed into a home where the newly formed women's theater group was performing a "Holidays Around the World" show. To do this, they used historic Crankies and a little audience participation. It was very well done and something none of us had ever seen before!
After that, we headed into the village doctor's house for a fancy soiree, visited a grumpy old man and his wife, spoke with Civil War soldiers, and checked out what goods the market had to offer.
Also in this area, there are villagers singing Christmas carols and reading excerpts from Dickens' A Christmas Carol. You really do feel like you're in another place and time when you're in this area of the museum. Don't skip it.
Polar Bear Plunge
Those who are at least 42" tall can enjoy this 150-foot-long tubing slide. Our oldest is tall enough to ride, so he raced me down the hill. This was his favorite part of the night!
The first thing you'll need to do is walk to the bottom of the hill to get a tube (large, heavy inner tube). You'll drag your tube up the hill and the flight of stairs to the slide. At the top, there is a worker who will assist you in pushing off (if needed).
Then, you will fly down the hill at speeds that feel like 500 miles per hour. It is such a rush! I screamed the whole way down. Ha!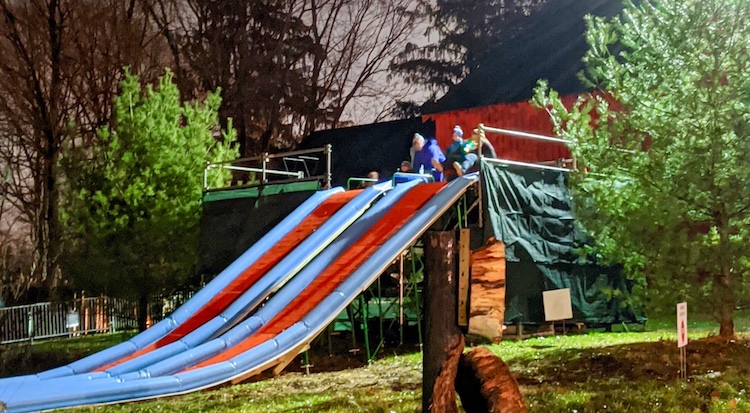 Reynolds Farm Equipment Christmas Lights
If you're from around here, you probably remember the free drive-through Reynolds light display that we all enjoyed for over 25 years. It's no longer at Reynolds Farm Equipment, but they donated the display to Conner Prairie. Our family was sad about this move, but we loved strolling through this display at the Merry Prairie Holiday.
Seeing the same fixtures that we've enjoyed year after year really warms our hearts. I'm happy these lights found a new life and a new home at Conner Prairie.  
Blitzen's Bandstand
In the pavilion area, you can warm up by the fire and enjoy holiday performances from various local groups. When we were there, we caught the tail end of an Elvis Presley show. Yes, you read that right. Finding the King of Rock and Roll at Conner Prairie was unexpected and magnificent!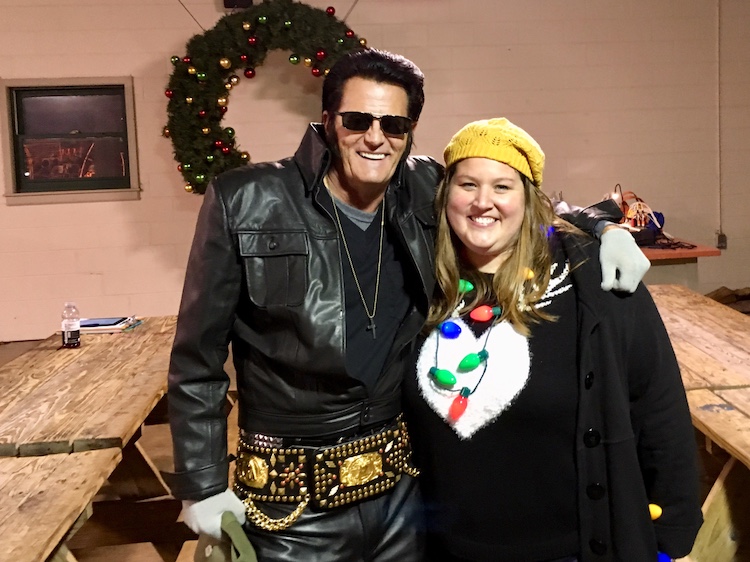 Tips
1. Wear boots. There are lots of muddy and slick areas throughout this adventure. 
2. Buy these light up Christmas bulb necklaces from Amazon before you go. When we visited, they were selling these necklaces at Conner Prairie, but you can get them much cheaper on Amazon than you can if buying them once you get there. 
Since it's super dark in the 1800s (no electricity), you'll actually be able to spot your kids if they run off to join the Union Troops. Plus, you can wear these necklaces to all of the holiday events you attend.
Food and Drinks
On the paths between the Reindeer Games area and the Reynolds light display, there are various food and drink vendors. When we visited, it was a cold Sunday night without many visitors, so many of the food trucks were not open. However, we still enjoyed some soft pretzels and drinks from one of the vendors.
If you visit on a busier night, you'll likely find vendors with pizza, sandwiches, and other items that will fill your tummies while you take in all of the festivities. 
Other Activities
There are several other activities and sites to take in as you stroll around the property:
"Twas the Night Before Christmas" 3D projection mapping show in the William Conner House
Sock skating rink
Selfies with Santa
Check to see if you made Santa's nice list
Gifts
If you want to get in a little shopping, the outdoor Merry Marketplace area has vendors selling holiday-themed gifts. There are also some handmade items for sale at tables inside of the welcome center.
Additionally, the Conner Prairie Store (inside gift shop) has some cute toys and gifts for you to peruse. I was surprised to see that many of their gifts are very reasonably priced, so I would recommend checking them out for sure. 
Breakfast with Santa
Conner Prairie has another other options for Santa-related fun this season, so I wanted to be sure and mention their Breakfast with Santa event.
We had so much fun at A Merry Prairie Holiday! There is lots to do and see, and there are so many lights! We really think it's a great way to spend an evening at Christmastime. We hope you'll go and enjoy the prairie, too.