Have you experienced Greenwood, Indiana's Airport Day? Want to know more about it? 
When you're an adventure kid, you're always on the lookout for something that's going down (or up?). When we were driving south in Indy last weekend to pick up our adventure dog's food, we all noticed lots of small airplanes circling the area. We drove by the Indy South Greenwood Airport to see why there was such a commotion. There we happily stumbled upon our latest adventure . . . AIRPORT DAY!
We pulled back to the airport, which is just 10 miles southeast of downtown Indy. There, we immediately noticed lots of army vehicles, airplanes, and helicopters, so we hopped out of the minivan and waltzed in to this FREE event. Here's what we found:
Planes and Helicopters
Even if your child isn't old enough to ride in the free plane rides (see "Free Plane Rides" below), just seeing the planes and helicopters take off and land is quite the site for any age. There were also a few planes that all kids could touch and sit inside. Additionally, the National Guard brought a 15-person helicopter that the kids could tour as well. We loved checking out all of the flying machines both in action and sitting on the runway.
Free Plane Rides
Kids ages 8-17 can sign up ahead of time to take a free ride in an EAA flight. Parents/guardians must be present at the time of the flight and for registration. These are small planes where the kid climbs in and takes off with the pilot for a short flight. This is amazing! I can't wait until my guys are old enough to do this. I'm jealous that I'm too old. 
WWII-Themed Area
Our kids loved this area just as much as they did watching the planes. These WWII reenactors brought tanks, tents, equipment, a motorcycle, and much more. They were very friendly and talkative. We learned quite a bit from them. They gave both of my boys free shell-casings, which the kids treated like gold. The reeanctors also let the Adventure Kids climb in and touch everything. My oldest thought everything belonged to Captain America, one of his favorites. He's still asking me when Cap'n is going to go to the airport to pick up his motorcycle. 
Helicopter Rides
Kids (at least 4) and adults can pay $20 per person to take a helicopter ride and check out the sites from high in the sky. This was very popular. Since we hadn't stumbled upon the activities until later in the day, we weren't able to do this, but we definitely will next year!
Indiana Historical Society's History on Wheels
The history on wheels exhibit is an air-conditioned trailer with information and displays inside pertaining to racing and racecars. There was a mock racecar that the kids could climb inside. It was nice to cool off for a minute and step into the shade.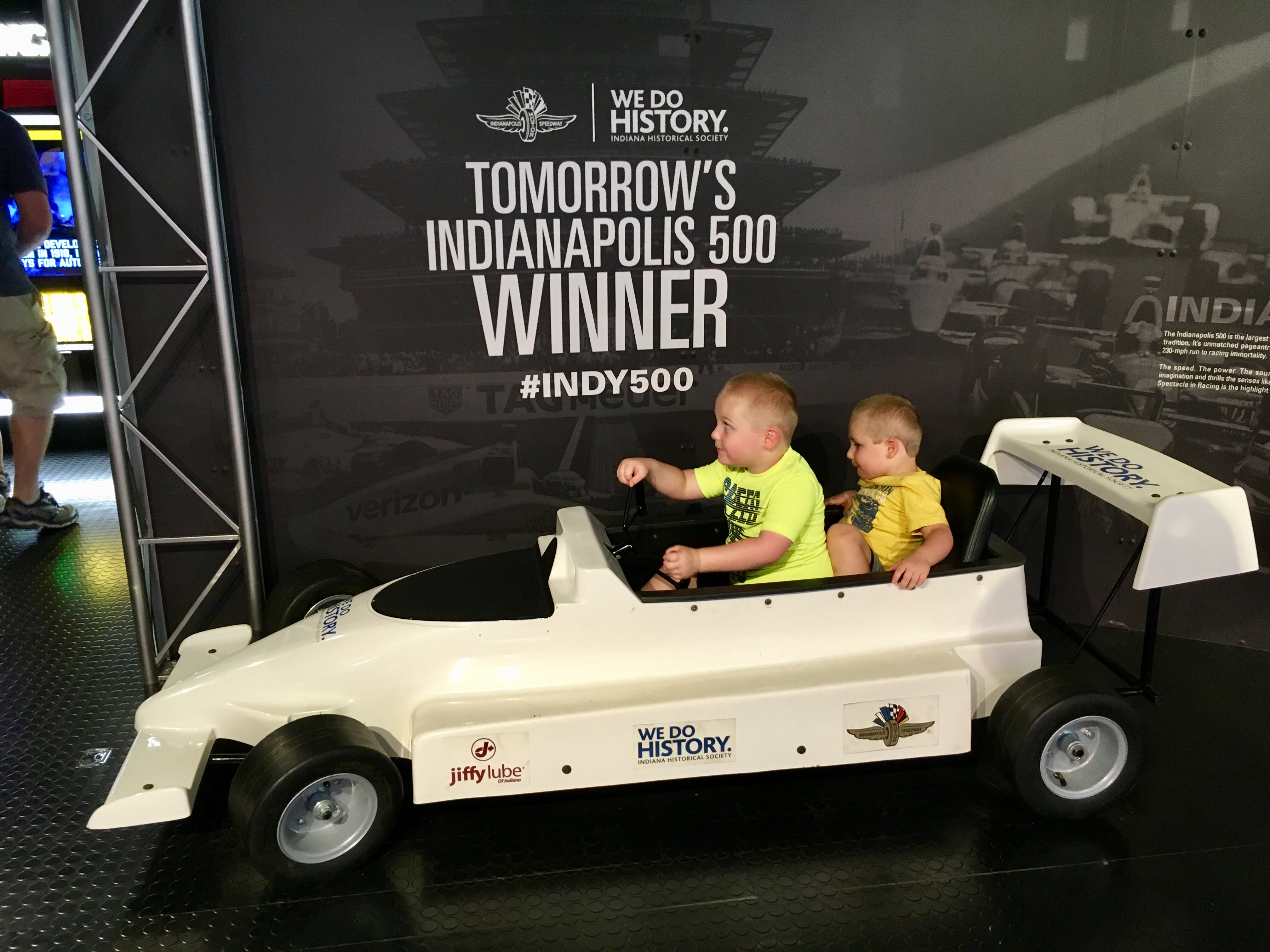 Fire Truck and Police Car
This was another hit with the Adventure Kids. Their faces lit up when they saw that they could sit inside the emergency vehicles and TURN ON THE LIGHTS in the police car. The firemen gave them free fire hats. They wore those around with pride.
Indianapolis RC South
The Indy RC South group was there with their super-cool model planes. We enjoyed looking at those as well.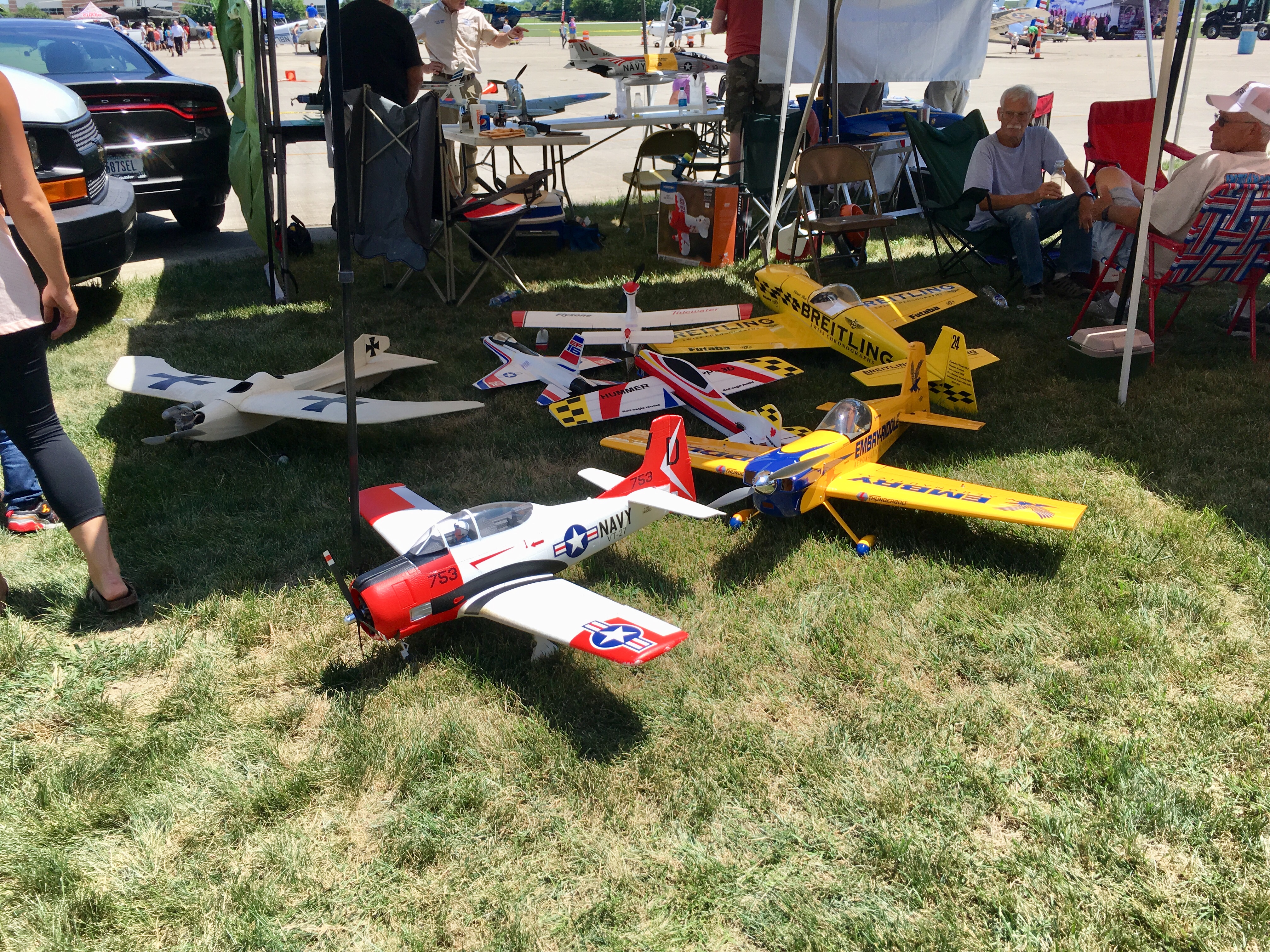 Food
Inside the hangar, there were a few tables and chairs setup and several vendors on-hand. Chick-Fil-A was selling sandwiches, chips, and drinks. Archer's Meats out of Greenwood had several food and drink offerings as well. Ella's Frozen Yogurt provided the cold refreshments. I believe they were doing a good business on this hot day. We cooled off for a little bit inside the hangar and enjoyed our food and free bottled water from one of the vendors.
Vendors and Community Groups
There were several vendors and community groups that had tables setup giving out free stuff and information (and, of course, trying to sell things if they were vendors). For instance, the STEM Scouts group was there with information; they also were asking kids to participate in small experiments with pennies and foil boats. The Civil Air Patrol was another group there explaining their organization. This was interesting to me since I had not heard of this group before. Our boys were happy to spin wheels and win prizes like flashlights and keychains. They had a great time perusing all of these tables!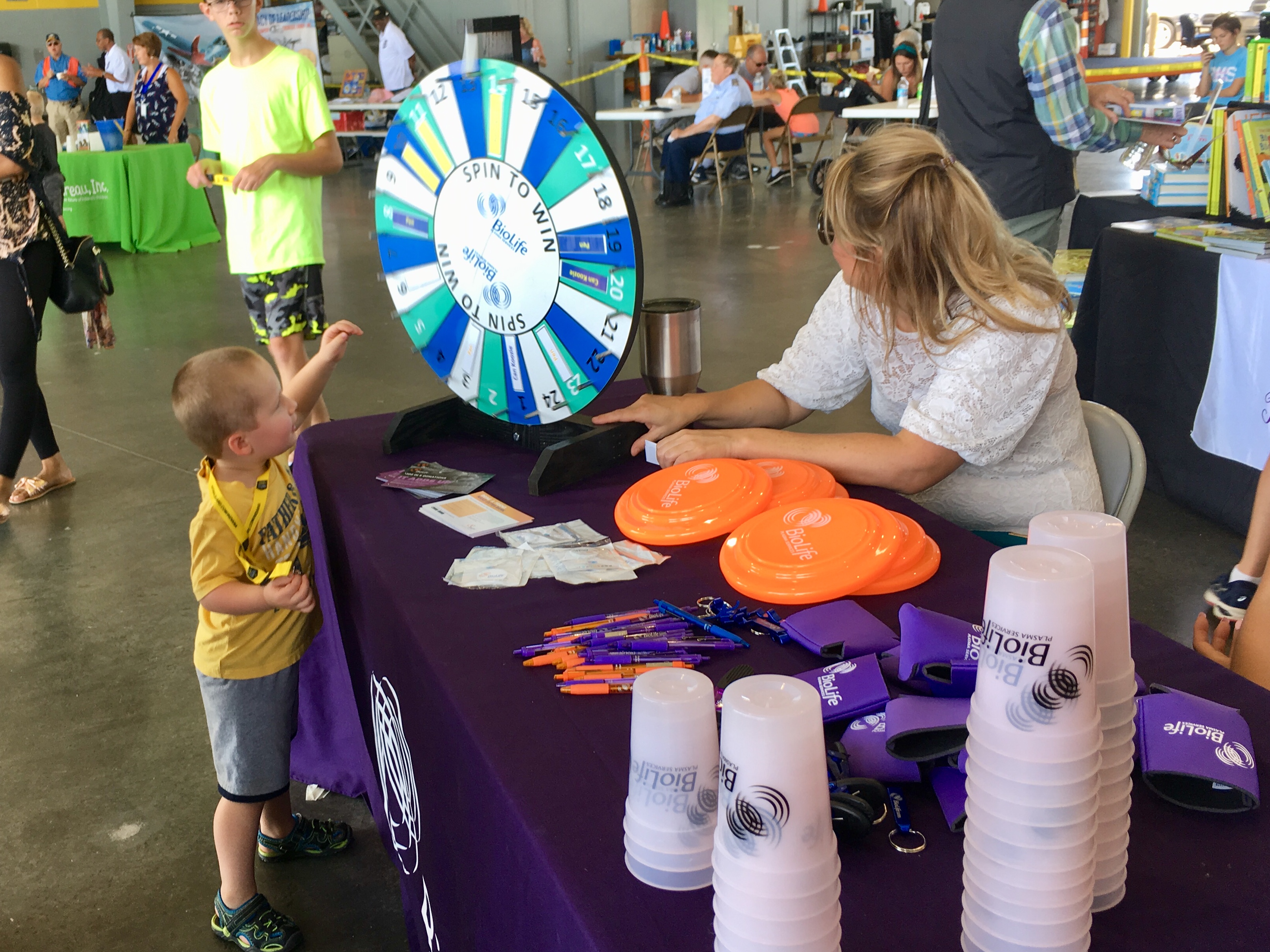 We had a fabulous time at this event! We can't wait to take our friends back with us next year so they can experience it with us. I liked/followed the airport's Facebook page and signed up for their newsletter so that I can be sure we don't miss next year's airport day. 
We want to know if you've ever flown in a helicopter or small aircraft? If so, how was your experience?