Adventure Kids' mom here. I am NOT an outdoorsy person by any stretch of the imagination. I hate bugs, sweat, and feeling dirty, so anything close to camping or hiking makes me whiny. HOWEVER, the hubs likes to be outdoors and the Adventure Kids really love to play outside and get dirty whenever possible. In fact, our oldest son likes to proclaim loudly (especially in public) that he "loves trash!" What he means is that he loves making a mess. 
I don't really remember what first gave me the idea that we should try creek stomping. I think it may have been someone's adorable photos on social media of their kids enjoying this pastime in big boots or overalls. Have you seen pics like that? So cute. Anyway, whatever it was, I'm so glad we took this adventure! Yep, you read that right. The Adventure Kids love creek stomping and SO DOES THEIR MOTHER! 
Obviously we haven't covered all of the creeks in and around Indy yet, but of the ones we've tried, here are our top 5 favorites with some explanations as to why they're so amazing. If you keep reading and scrolling, you'll find some tips I have for what to bring with you when creek stompin' as well as a FREE printable scavenger hunt that you can use on your next stompin' adventure.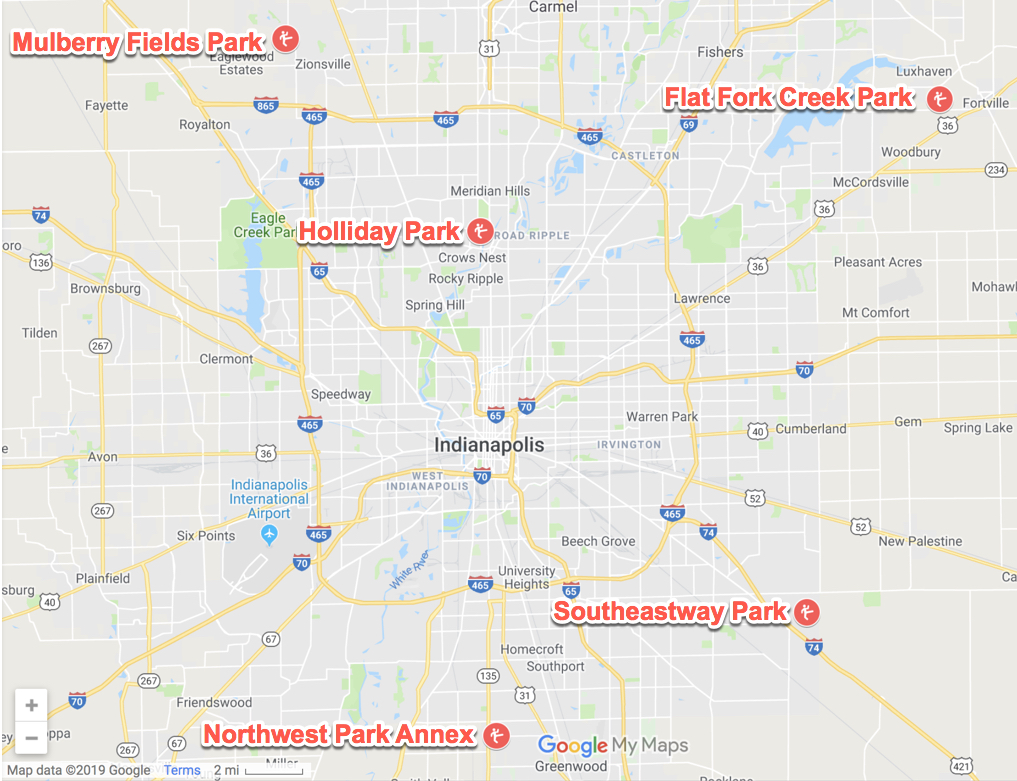 1. Flat Fork Creek Park in Fishers
This park in Fishers really has a variety of fun for the family. In addition to the creek, the park includes a 60 ft. tall sledding hill, hiking and biking trails, a fishing pond, 3 "tree houses," and 20 acres of woods. There is also a nice shelter with picnic tables and clean bathrooms. We take the long way around to the creek by heading left at the trailhead from the parking lot so that we can check out the 3 "tree houses" and walk over the beautiful wooden bridge on our way down the hill to the creek. Checkout the Flat Fork Creek Park Map. 
2. Mulberry Fields in Zionsville
Okay, so this creek in Zionsville is sort-of cheating on nature, but not totally! This creek is manmade, BUT it is surrounded by beautiful flora, and when you're sitting on the rocks or splashing in the water, it definitely gives the feel of any other creek. The really nice thing about this creek is that you basically walk right up to it from the parking lot, and the bathrooms are 20 feet away. This park also has a fun splash pad (right next to the creek), a shelter with picnic tables, playground equipment, sports fields, and a skate park. Checkout the Mulberry Fields Map. The only downside to this creek is that since it's manmade and man-run, it's just open from Memorial Day through Labor Day. 
3. Southeastway Park on Indy's Far Southeast Side
Southeastway park is a beautiful and huge park (188 acres) that includes hiking, biking, and running trails, a playground, several picnic shelters, tons of picnic tables, an education center, wooded areas, prairies, open grass areas, a pond, a sledding hill, and access to Buck Creek. Check out the Southeastway Park Map. We park in the lot that is farthest west in the park and then take a short forest trail down to the creek. It's magnificent!
4. Holliday Park Near Springmill and 64th St. in Indy
This park is rad. What makes it so rad are The Ruins which look like something straight out of Caesar's Rome. The Ruins include sculptures from a New York City skyscraper originally built in the 1890s, columns, fountains, and a water table in operation during the summer.
The Ruins is the first thing visitors see upon entering the park and are definitely the first thing you'll want to explore, but there are also a variety of other spaces you can find on the grounds. They have ponds, a nature center, prairie and wooded areas, huge playgrounds, picnic tables, a rock garden, and access to White River. Check out the Holliday Park Map.
We do not splash in White River but instead walk through the Nature Center and take the trails behind it down to the ponds to splash around in the water there. During the summer, the Adventure Kids also love playing in the water table on the back side of The Ruins.
5. Northwest Park Annex in Greenwood
This park is one that I explored many times during my childhood, so I think that's why I love creek stompin' here with my boys. The 20 acre park mostly consists of walking trails through the woods and over and around Pleasant Run Creek. There is also a shelter, bathrooms, and a playground. Because this park is smaller, it does make for easier access to all of the areas and to the creek, so if you're not looking to hike a long way from the parking lot, this would be a good place for you to check out.
WHAT TO BRING TO A CREEK STOMP
Wet clothes (swimsuit or clothes that can get covered in mud and water)

Water shoes, rain boots, or crappy shoes

Dry clothes

Towels

Hand sanitizer

Snacks and drinks

Bug spray

Sun block

Bandaids

Wipes

Bag for wet clothes
When the Adventure Kids creek stomp, they do not need me to guide their adventure, and I don't want to disrupt their play and discovery. However, they do love to hunt for things, and so I created this Creek Stompin' Scavenger Hunt that we use on our adventures in these parks. Feel free to check it out and print it out for FREE to use on your next creek stompin' adventure. 
Have you been creek stomping around Indy? If so, what's your favorite spot? Have you been creek stomping somewhere else in the Midwest? Share your favorite places and ideas for stomping in the comments.