Wondering if you should take your family out to the ballgame in Indianapolis?
Read why we think it's a must-do!
Recently, our family went to see the Indianapolis Indians baseball game. The Indians are our hometown minor league team, and hanging out at the ballpark in the summer is a tradition we love.
Here are the top 3 reasons it's so easy and fun to take our kids to Victory Field:
1. There's MUCH MORE to enjoy than just watching baseball.
In fact, as I'm sure you've probably already figured, lots of younger kids aren't going to watch much of the baseball game. If you want to sit and watch every play, then you might need to wait until your kids are past their toddler and preschool years. However, I encourage you to take your younger kids with you so they can enjoy the sights and sounds at the ballpark. For instance, the Indians often offer theme nights such as Paw Patrol, Superheroes, and Bark in the Park (bring your dog). We went during a Superhero night and saw Hulk. Our boys were so excited to get their picture taken with the big guy! Even though the line was a little long (waited about 20 minutes), it was totally worth it. We used our own cameras to take the pictures, so it didn't cost us any extra either!
The Adventure Kids also played some of the games (extra cost) that are available. The cost is $1 for the kids to spin a wheel and win little souvenirs. The water gun racer game also provided them with little souvenirs, and at $2 per kid per game, that wasn't too bad of a deal. Taking them on a lap around the park was free, and they were entranced by all of the different sights, sounds, and smells they encountered along the way. Of course, they also had to take their picture with Rowdie, the Indianapolis Indians baseball mascot, who is always funny and ready to mingle with kids.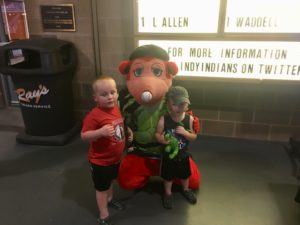 2. Sitting on the lawn is where it's at.
Well, it's where we're at, anyway. Even though we had free stadium seats to the game (from our summer reading program at the public library), we still chose to sit on the lawn. If you have toddlers like us, you already know that trying to get them to sit in chairs is like trying to stuff a cat in a bag. Allowing them the opportunity to spread out and stand up as much as they'd like was a better choice for us. There are other advantages to sitting on the lawn as well. You can bring your own cooler full of nonalcoholic beverages, AND you can bring your own food. We also brought a few little toys for the boys to mess with during the time that we were sitting. This setup was good for our nerves and great on our wallets!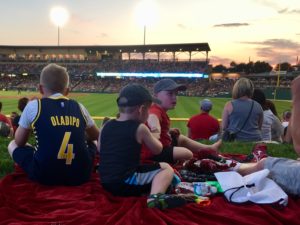 3. Victory Field is clean, laid-back, and friendly.
Finally, we really appreciate that the park is so clean and accessible for us. Even near the end of the game, the restrooms are looking shiny. I have never been in a situation at the ballpark where I felt unclean or unsafe. Of course, you should always keep a close eye on your children when in large crowds. However, there aren't any situations where bottlenecking of crowds or dark areas made it hard for us to watch them. The staff is friendly and helpful. You really do feel like you're just at your neighborhood ballfield when hanging out watching the Indians play baseball!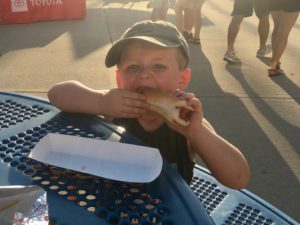 Planning a trip to Indianapolis? Do you live here and want to enjoy something new? We highly recommend an Indians ballgame for visitors and residents alike. Make sure to check out their website to plan a game that would be best for you and your family. Definitely look at the promotions and events sections. This will help you plan a visit on a night with fireworks, special guests, or dollar deals. 
Have a different reason why your family loves the Indians? Tell us all about it. 🙂