Forget standing in line to meet Santa! Forget shoving in at some event for a glimpse of the beard and red coat!
If you want to hang out with Santa in a relaxed, comfortable, and fun environment, you're going to want to head on down to Louisville for this awesome experience!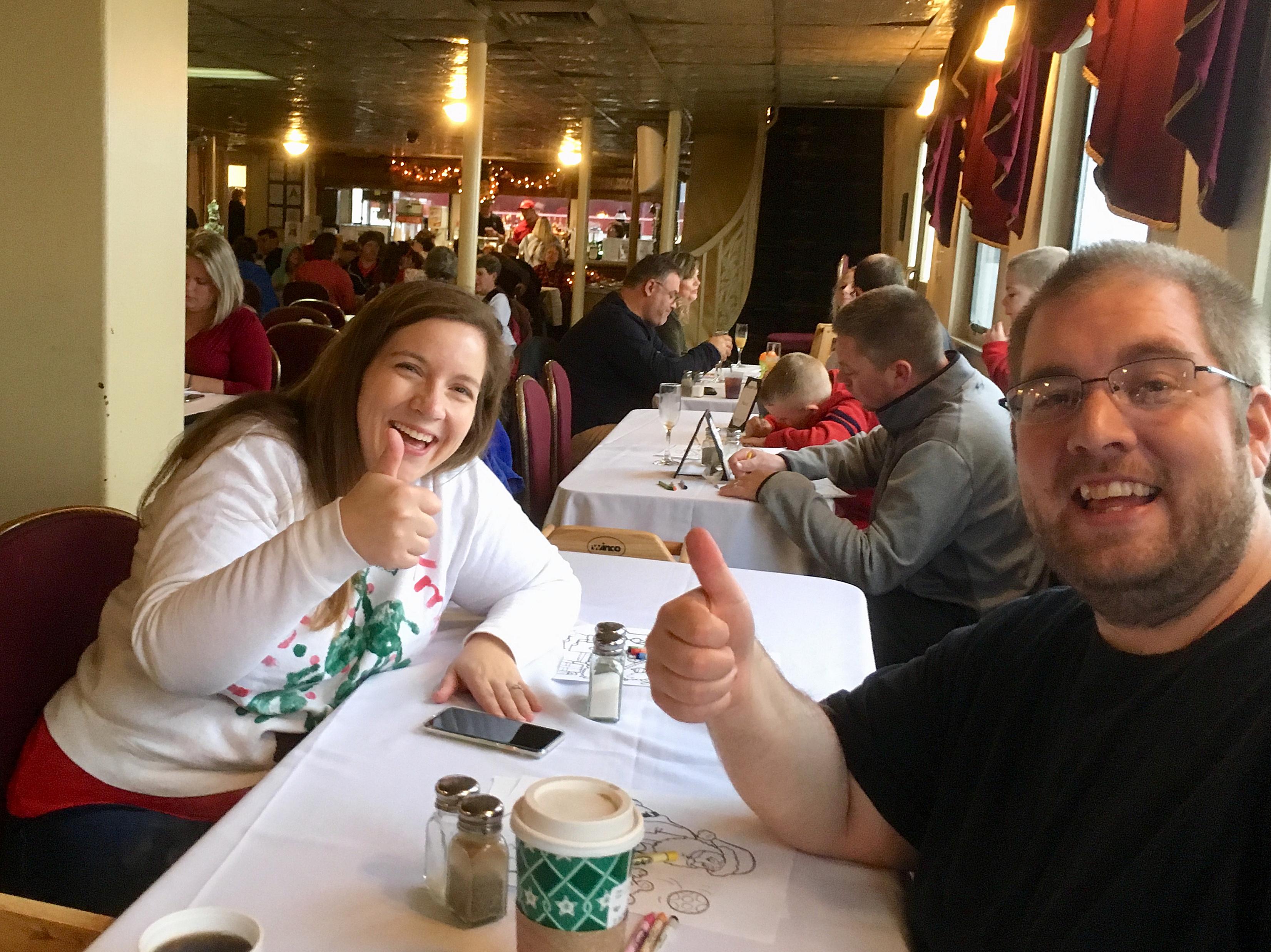 The Boat
This company operates two steamboats: The Belle of Louisville and Mary M. Miller. If you're from Indy like us, you've most likely seen these beauties on the river as you cross over the Ohio River on I-65 into downtown Louisville. 
The brunch with Santa occurs on the Mary M. Miller, which they fondly call "the little sister." She has two fully heated and air-conditioned indoor decks, an outdoor observation deck, and, of course, a paddlewheel.
Fun fact: This boat is named after the first woman to obtain her steamboat captain's license.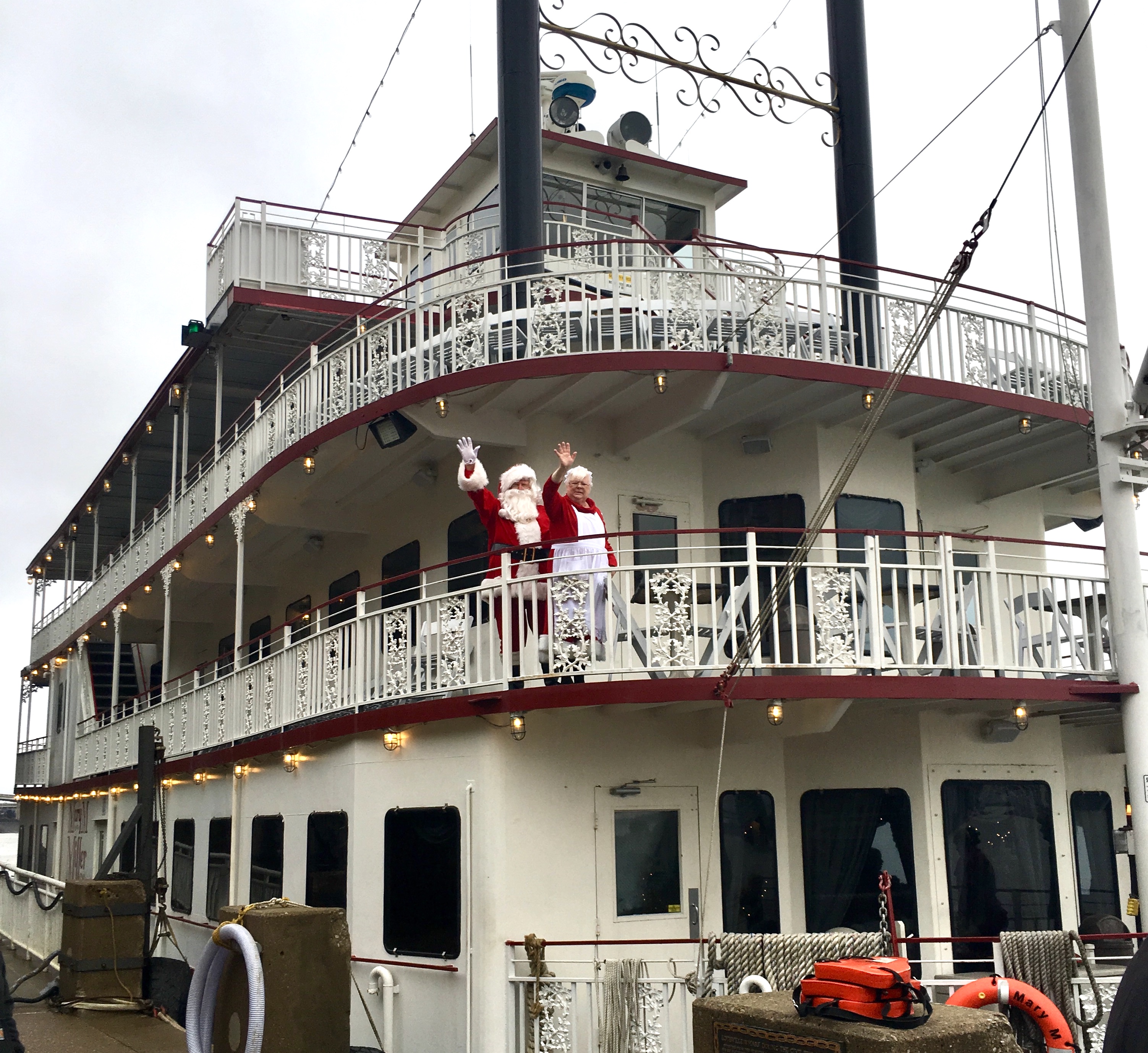 The Order of Events
The cruise is from 11:00am to 1:00pm EST, so you'll board the boat around 10:30am. 

Once boarded, you'll find your reserved seat at your table.

Tip: If you are cruising with others who bought their tickets separately, just call the boat office to request that you all sit together.

The boat takes off. 

The drinks will be served and tables will be called up to the buffet in a timely and orderly fashion.

The DJ plays some fun tunes throughout the trip. 

Everyone eats and drinks until they are full and happy. 

Santa and Mrs. Claus land on the roof! There is total mayhem as this is announced and everyone waits for Santa to come down the stairs. 

Santa and Mrs. Claus circulate to the tables saying hello to everyone.

Santa and Mrs. Claus "take the stage" for picture time. Tables are again called up in a timely and orderly fashion to take pictures with Santa. 

There is a professional photographer on-hand to take everyone's picture with Santa. These can be purchased before you disembark. However, you can take as many pictures as you want with your own camera for FREE!

When it's your turn to meet with Santa, each child is given a small gift bag with a couple of items such as a paddle ball, bouncy ball, notepad, or stickers. 

Once everyone has had their time with Santa and Mrs. Claus, the dance party begins! Santa even showed off some moves during our trip. The Adventure Kids really got a kick out of that. 

Santa and Mrs. Claus leave in their helicopter. Everyone is free to roam the ship, dance, chat, look at the river, investigate the vessel, and enjoy the rest of the cruise. 
The Food
The brunch food is served buffet style. We thought it was delicious!
The items that you may find on the brunch buffet include:
Scrambled Eggs

Hickory Smoked Bacon

Breakfast Sausage Patties

Biscuits and Gravy

Breakfast Potatoes

Honey Glazed Ham

Derby City Chicken Salad

Greek Pasta Salad

Southern Green Beans

Fresh Fruit
The Drinks
Tea, lemonade, water, and coffee are included in the buffet price. Sodas and adult beverages can be purchased at an additional cost.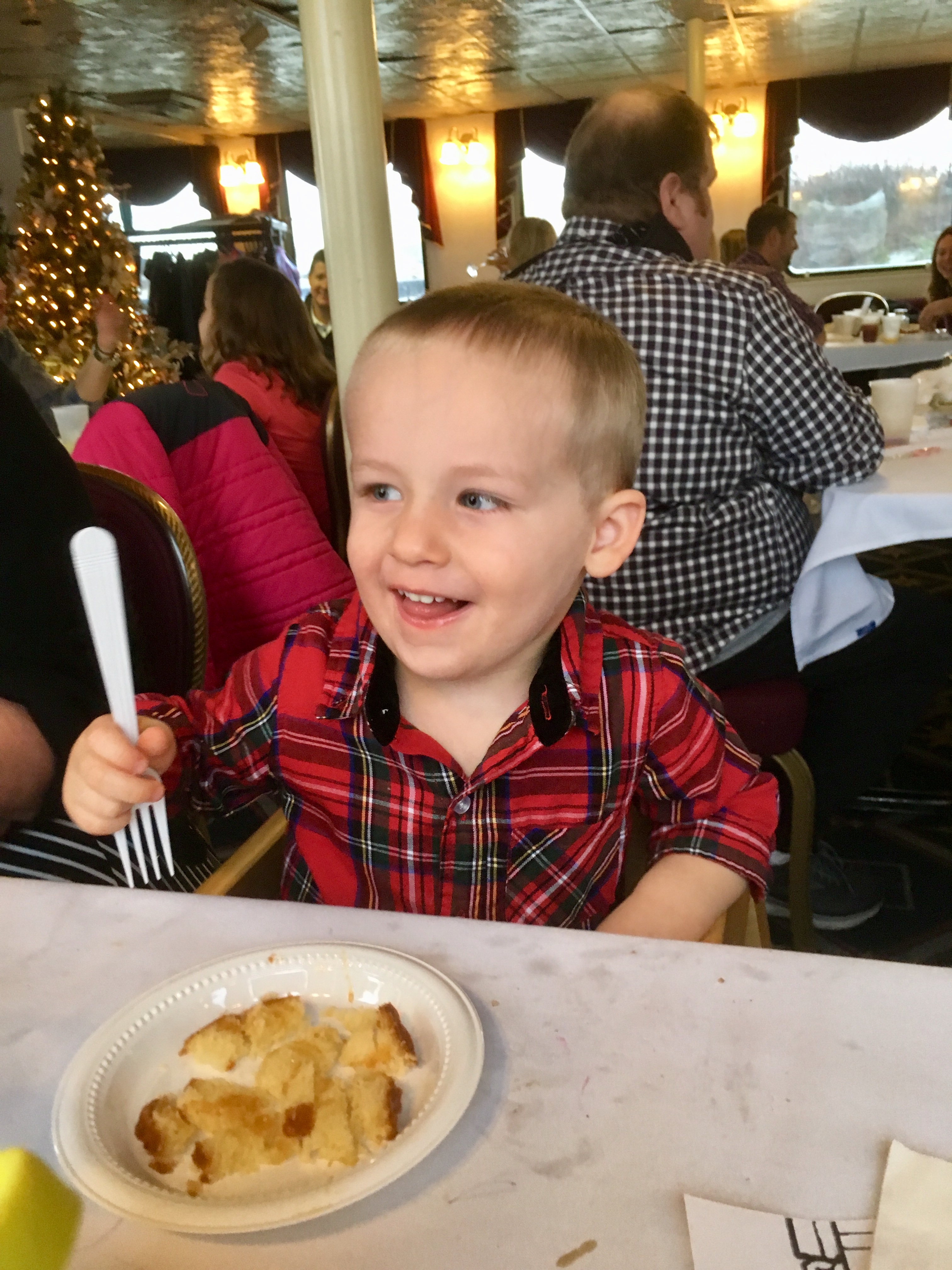 The Price
These prices are for Brunch with Santa, so they include the buffet and the cruise. You can purchase tickets online or by phone at 866-832-0011. 
Adult = $41.51

Senior = $40.57

Child = 32.08
Other Points of Note
Only the first deck on the Mary M. Miller is handicap accessible. (The Belle does have a lift to the second deck.)

There are clean bathrooms on the boat with changing tables available.  

There are highchairs available. 

You will need to pay for parking either in the wharf lot or in the parking garage across the street (if the wharf lot is full).

There are

other special events

on these boats throughout the year. Don't miss checking those out as well. We have been on the Belle several times for sightseeing cruises and dinners, and we've loved it every single time. 
Lights Under Louisville
If you plan to stay the day and night in town, we highly recommend you also visit Lights Under Louisville. This is a 30 minute drive through an underground Christmas light display inside the Louisville Mega Cavern.
It is truly one of a kind! We visit this every year, and we are amazed by how they continue to add more and more lights. The Adventure Kids absolutely love this. 
Tip: On the weekend, the lines for this attraction can get long. If you don't mind spending extra money to avoid waiting in line, consider purchasing the priority pass. 
Another tip: Make sure you stop somewhere and go to the bathroom right before you get in line.  
Galt House Hotel
After our tour of Lights Under Louisville, we stayed the night at Galt House Hotel on Friday before our brunch and cruise on Saturday.
If you don't know about Galt House, it's a beautiful, historic, waterfront hotel. Last year, they had FREE special Christmas activities that included:
A room with "elf games" for the kids

A viewing of the movie

Elf

with free appetizers, candy, popcorn, and hot chocolate 

A miniature indoor train ride for the kids 
It was amazing! 
Note: I am awaiting news about the Christmas plans for Galt House Hotel activities this year. They are undergoing renovations, so their plan is unclear at this time. I will update this post as soon as I have that. 
We love Indy to infinity, but at Christmastime, Louisville has lots to offer families! Have you been on the riverboats, stayed in the Galt House Hotel, or checked out the Mega Cavern? What was your experience?
Is there something else we need to do in Louisville around Christmas? Let us know in the comments.