Did you know that the largest train display in the world is in a Cincinnati suburb at a place called EnterTRAINment Junction? It's true!
And there's so much more to do there than just look at the intricate and beautiful model train displays. 
The Adventure Kids love this indoor amusement park and play space! We've been twice so far with plans to go back this holiday season to check out their special displays and activities.
I am not kidding when I say we were absolutely astonished by how much there is to do here!
Jump aboard, and I'll give you the rundown of all of their areas and details!
World's Largest Train Journey 
There are two main areas in the EnterTRAINment Junction complex: World's Largest Train Journey and A-maze-n Funhouse. The World's Largest Train Journey actually includes six different sections to explore:
1. Train Journey 
This area of EnterTRAINment Junction has 90 moving model G-scale trains that run on over 2 miles of track.
G-scale trains are 1/24th the size of a real train. The displays are historically accurate and take you on a journey beginning in the 1860s through today. 
The model train display take up 25,000 square feet, and it is like nothing you've ever seen. The scenes and details are very interesting for kids and adults.
For very young kids, there are buttons everywhere that they can push to make items in the display move.
You can also go on a scavenger hunt while looking at the displays. The hunt changes throughout the year, and it is fun to see the kids really looking at the details and scenes to try and find the next item on their hunt.
On one of our trips, Disney princesses were hiding in the displays. That made it even more fun!
Tip: For shorter children, you can borrow step stools from the ticket office to take with you throughout your journey. 
2. Imagination Junction
Imagination Junction is an indoor play area. It includes:
Climbing structures with slides and tunnels (bring socks)

Giant play train where kids can shovel coal 

Several tables of wooden trains

Thomas the Train play area

Tree house with slide

Small sit-on moving train that goes in a circle (bring quarters)
The Adventure Kids could spend all day in this area that is built for kids around their age (5 and under). There are benches for the parents to take a break, and everything is laid-back and clean.
3. Ride-on Trains
There are two different opportunities for kids to ride trains outdoors at EnterTRAINment Junction. For both of these rides, you must purchase a special ticket to ride unless you've purchased the "Do-It-All Ticket."
The Kids' Express

is outside of Imagination Junction. It is a hand-cranked train on a 300' track. This train is open from Memorial Day through Labor Day. 

The Narrow Gauge Kid's Train

is an electric locomotive. It is open Memorial Day through Labor Day and is also in operation inside during October. 
4. American Railroad Museum
In the midst of the Train Journey, you'll find the American Railroad Museum. This interactive and kid-friendly museum area includes:
Trivia kiosks

Train equipment

Artifacts and memorabilia

Movie theatre playing historical video nonstop (FREE)

Computer game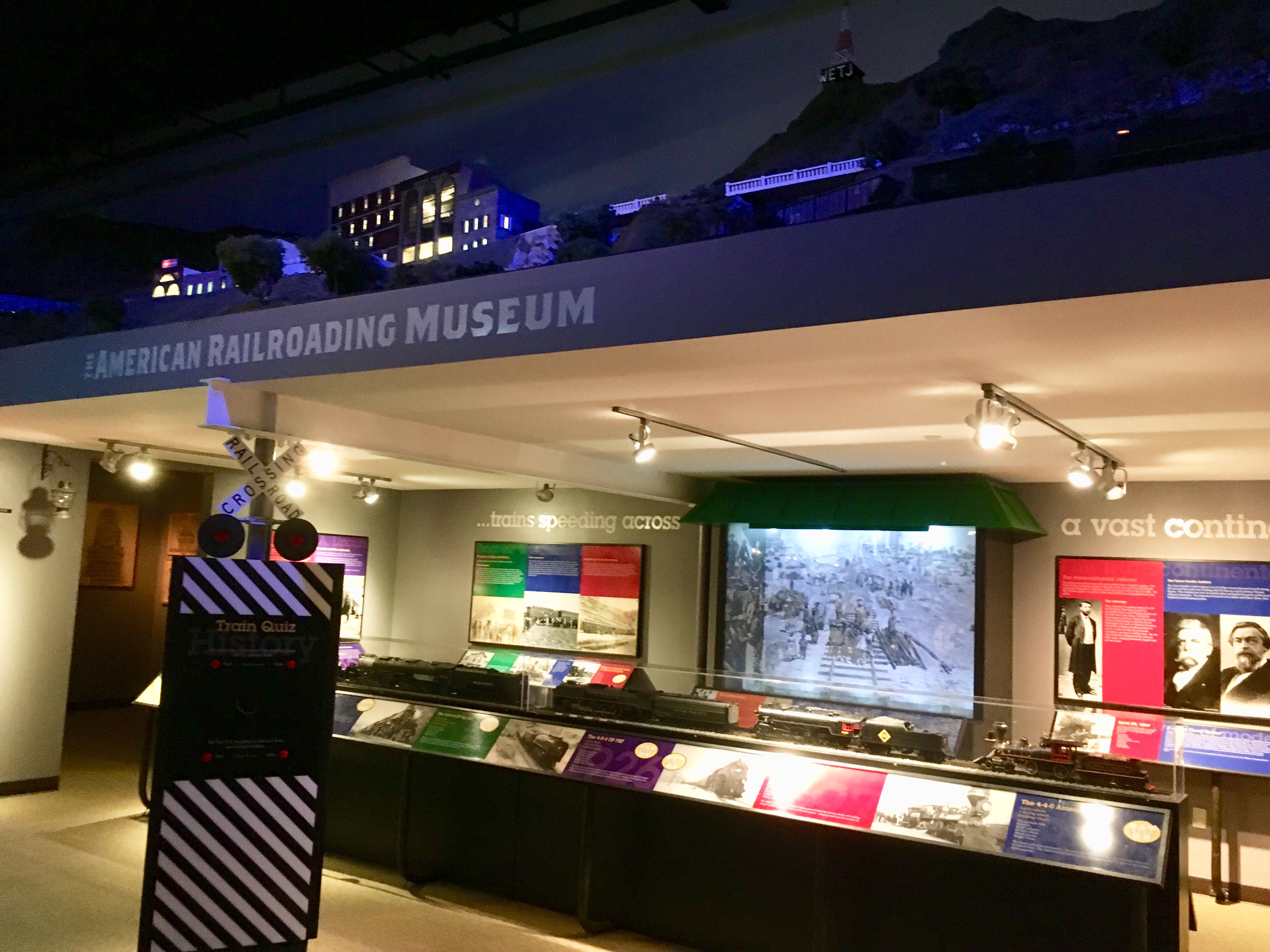 5. Coney Island Amusement Park Display
On the second level, you'll find a 1,000 square foot replica of Cincinnati's historic Coney Island Amusement Park. The replica shows Coney Island as it looked in 1965 but at 1/24th scale.
This display includes moving models of rides, such as a roller coaster, a ferris wheel, and a carousel. The replica includes a ton of buttons for kids and adults to push that play music, move rides, and turn on lights within the display. 
6. Great Train Expo Center
This huge space is near the end of the train journey. The displays it holds change throughout the year, and they aren't always train-related. Here's what you may find:
Additional train layouts

Historical artifacts

Collectibles

Neil Young's personal touring Lionel train display

Ride-on electric train for the Thomas the Train month in February

Trick-or-treat maze and indoor pumpkin patch in mid-September through October (kids get a FREE mini-pumpkin)

Main Street Holiday Trains exhibit beginning in November (FREE to public)

Volunteers working on train displays

A library of railroading and hobby books, videos, and magazines from the Cincinnati Chapter of the National Railway Historical Society (library hours vary)
Most recently, the expo center hosted "It's a Marbleous Life" display. This display is the most complete collection of marbles and marble-related items in the U.S.
A-maze-n Funhouse
On the opposite side of the complex from the World's Largest Train Journey, you'll find the A-maze-n Funhouse area. 
This is personally my favorite part of EnterTRAINment Junction because it is so unexpected. The funhouse includes 5 unique attractions:
Curtain Chaos

This one is just like it sounds. You enter a maze of red and white vertically striped curtains. You just keep trying different curtains to find your way out. 

Mirror Maze

Again, this is just as it sounds. A maze made of full-length mirrors. Go slow and hold onto small hands so that you don't faceplant into a mirror. 

Outer Limits

This attraction is designed to make you feel like you're travelling in space. You walk on a tunnel through a vortex, enter dark rooms with glow-in-the-dark planets and stars, and even squeeze through a claustrophobia hallway that simulates space compression. 

Clown College

There aren't any real clowns in here except the ones you brought with you. Ha! This is an attraction full of illusions. Our favorite is the Ames room where two people of the same size can stand in opposite corners of the room and look completely different from one another. We also enjoy the room attached to Clown College that includes slanted floors, twirling lights, and ladders that make you feel wild. It's lots of fun if you can stand it. 

Crazy Caper

This area is filled with alarms, hidden triggers, and illusions to try and keep you from finding the "golden key." It's a hoot. 
Christmas Journey
I really want to see this. It sounds incredible!
Here's what you see if you visit EnterTRAINment Junction at Christmastime or during their Christmas in July event:
Nostalgic department store display windows

Reindeer stables

Elves making toys in the workshop

Mrs. Claus baking cookies (She even gives you one before visiting Santa!)

A visit with Santa Claus (the Saturday before Thanksgiving through Christmas Eve)
Food
The Junction Cafe is the perfect place to eat lunch or a snack between visiting the two sides of EnterTRAINment Junction. They have plenty of tables and chairs (even highchairs) and plenty of options:
Pizza

Chicken nuggets

Hot dogs

Sandwiches

Soft pretzels

Nachos

Chips

Ice cream

Sodas

Bottled water

Juice
West Chester Station Gift Shop and Junction Hobbies and Toys
You'll probably want to take a souvenir home with you to remember your trip to EnterTRAINment Junction. If so, there are two shopping options for you inside of the complex.
The gift shop contains merchandise like hats, patches, t-shirts, and typical souvenirs as well as railroad-themed gifts.
The hobby and toy store is huge. They sell every type of train-related toy you can imagine.
They also have G-scale and HO trains and accessories, doll houses, and miniatures. I spent way too much time in the hobby and toy store, but they really do have some unique train-related and educational toys that you can't find everywhere. 
Hours
Monday through Saturday: 10:00am – 6:00pm

Sunday: 12:00pm through 6:00pm

They are closed on Easter, Thanksgiving, and Christmas. They are also closed on certain days in January.
Price
Train Journey
(includes all model displays, expo center displays, museum, and Imagination Junction play area)
Beginning November 18, 2023, ticket prices are:
Adult $19.95

Senior (65+) $17.95

Child (3-12) $15.95

Child (2 and under) FREE
We highly recommend that you purchase your tickets online in advance. In addition to the cheaper price, they often run other specials online, so don't forget to check those out as well.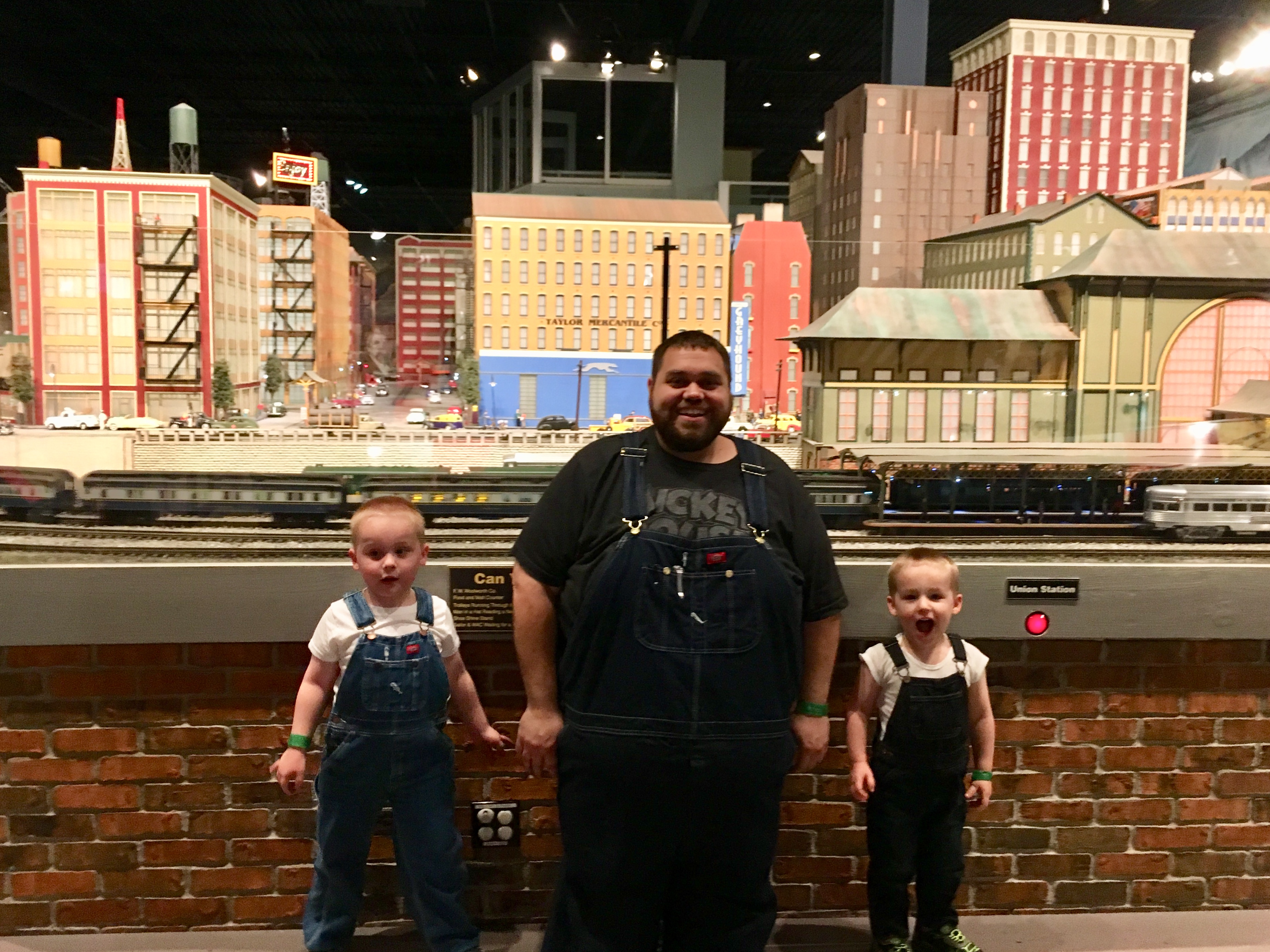 The Adventure Kids love trains and going wild, so EnterTRAINment Junction has everything they need and want out of an indoor playspace and museum. We hope you go check it out soon!
If you go during their holiday events, please tell us your experience. We can't wait to see those as well!